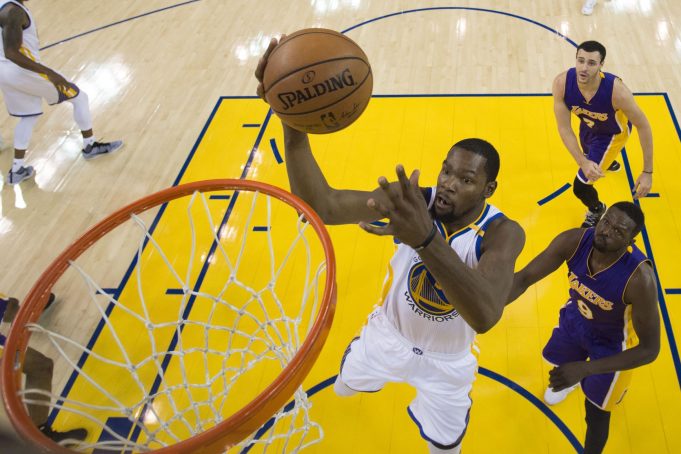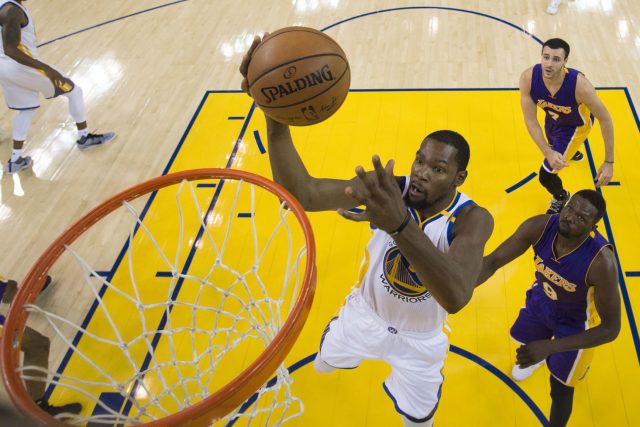 4. Kevin Durant; 12 (0)
25.8 PPG (9)
53.9 FG % (11)
1.7 BLK (10)
8.3 REB (22)
30.8 EFF (4)
T
he name on the front of the jersey has changed, but Kevin Durant is the same old baller. The Golden State Warriors went 73-9 last season, the finest regular season any NBA team has ever had. Durant makes them even better.
The Warriors are runaway favorites to take the 'ship this year, according to Vegas Insider, which should come as no surprise to any NBA observer. What has been interesting to watch is the dynamic between KD and Stephen Curry.
Each has sacrificed some individually, but Durant looks to have become the guy much the same way LeBron James did when he teamed up with Dwyane Wade in Miami seven years ago. The duos aren't comparable in terms of playing styles, but both were and are legit tier-1 superstars teaming up at the height of the powers.
That Heat team went to four straight Finals and won two championships. The ceiling for the Durant/Curry-led Warriors' might be even higher than that.
ESNY's Top 5 NBA players, No. 4 #KevinDurant. @TyDButler https://t.co/iQH52N8xDv pic.twitter.com/VzLDMiG3tj

— Elite Sports NY (@EliteSportsNY) February 18, 2017