With a severe lack of lefty depth in the New York Yankees' bullpen, the stellar version of Chasen Shreve will be a saving grace.

I
f you take a look at the
New York Yankees
' bullpen, you can certainly make a case for it being one of the better relief units the game has to offer.
Highlighted by closer Aroldis Chapman, the man with the second-most saves in the majors since 2012, with an elite setup man in Dellin Betances, the man with the most strikeouts among major league relievers since 2014, the intimidation of the duo alone is enough to make that case.
---
---
Beyond them, Tyler Clippard, Adam Warren and the rest of the squad that helped New York's 'pen rank 10th in ERA during the second half of 2016 are in charge of taking the ball from the turbulent rotation to the lights-out tandem. It's easily the Yankees' strong suit, but it too has a weakness.
It's easily the Yankees' strong suit, but it too has a weakness. Beyond the flamethrowing Chapman, there is no other southpaw manager Joe Girardi can turn to with confidence.
Tommy Layne has been stellar against left-handed hitters (.177 career BAA) and would likely reign atop the depth chart in terms of lefty specialists but after the former Red Sock, there's not much else to turn to.
Richard Bleier was a 29-year-old rookie last season and has appeared in 241 minor league games over nine seasons compared to just 23 at the major league level.
This was a predicament that could have been addressed this offseason, but after Boone Logan joined the defending American League champions, Jerry Blevins returned to the New York Mets and Travis Wood signed a two-year deal with Kansas City, the problem has yet to be solved.
Cashman did pick up Joe Mantiply in what he calls a "low-risk, high reward" addition, but he has pitched in just 2.2 innings at the major league level with the Detroit Tigers and gave up five earned runs in the process.
So, the Yankees will enter the 2017 season with a nasty back-end tandem, an ordinary middle relief unit and lack of assurance from southpaws. That is unless left-hander Chasen Shreve can return to what he once was: an efficient force out of the bullpen.
The 26-year old was taken by the Atlanta Braves in the 11th round of the 2010 draft and in his first taste of the pros (2014), Shreve maintained a 0.73 ERA in 15 relief appearances (15 K's, 12.1 IP).
On the first day of 2015, he and David Carpenter were shipped to New York for the failed pitching project, Manny Banuelos. Carpenter didn't pan out, but Shreve helped make a Yankees' bullpen — that already featured Betances and Andrew Miller — one hell of a group.
From April 6 to Sept. 5, Shreve tossed 53.1 innings and only surrendered 11 earned runs (1.86 ERA). He also struck out an even 60 batters while his opponents slashed just .177/.285/.317 off of him.
After a scoreless inning of work against Tampa Bay on Sept. 6, however, Shreve inexplicably drove off a cliff. In nine games following his first outing of the month, he gave up nine runs in five innings (16.20 ERA) and surrendered four home runs.
His struggles returned in 2016, as he maintained a 5.18 ERA across 33 innings and saw his home run rate rise to 2.2 HR/9 from 1.5 the previous year but if he could revert back to his former ways, there won't be a single wobble on the bridge to Betances.
---
---
In order to figure out if Shreve can, in fact, find his way back to the dominant reliever he once was, one has to understand the origin of his struggles. He did leave a ton of runners on base (third-highest LOB% among MLB relievers in 2015) throughout his days of success two years ago, but his stellar results stemmed from the location and use of split changeup.
From April 1 to Sept. 5, batters hit just .086 off the pitch featuring an abysmal .138 slugging percentage. Reason? Shreve buried that pitch like it was his religion: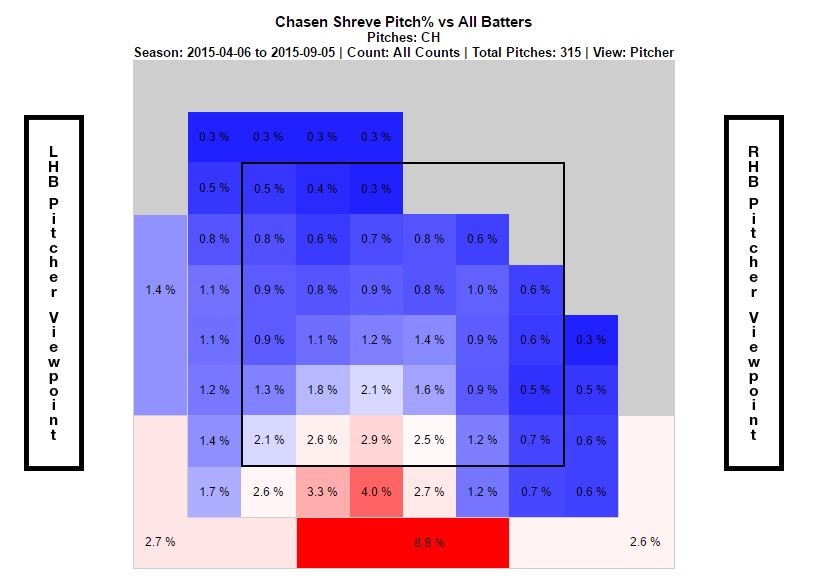 As major league hitters usually do, however, they adjusted to Shreve's tendency by simply laying off. He walked more batters in the month of August than any other month in 2015 which forced an unsuccessful adjustment period as he attempted to hit his spots in the upper portion of the strike zone the following month: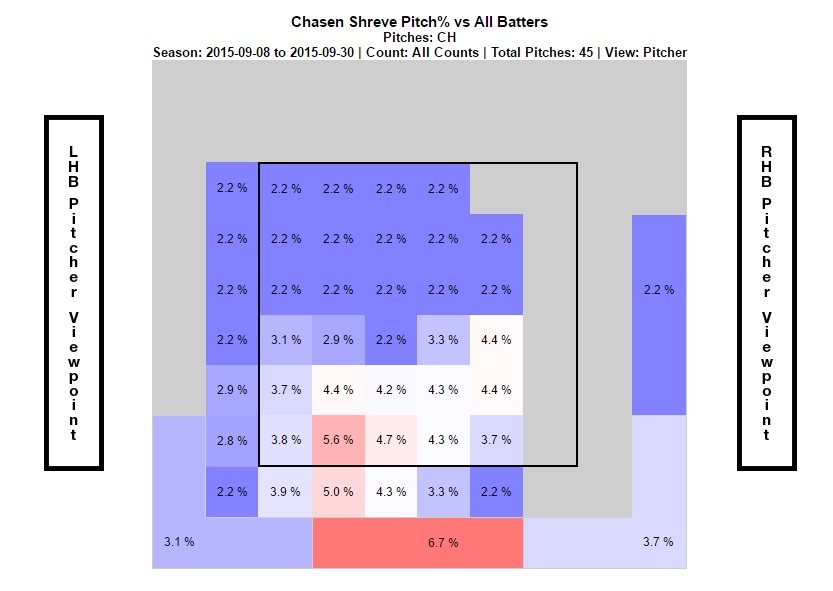 With that, batters hit .571 off of what was his most efficient pitch including an astronomical slugging percentage of 1.000. As previously mentioned, he also surrendered four home runs in six September innings compared to six in the previous 52.1.
It wasn't just the split change, though, as he went from hitting his spots in the lower half of the zone with his fastball to leaving it up in a hitters' wheelhouse.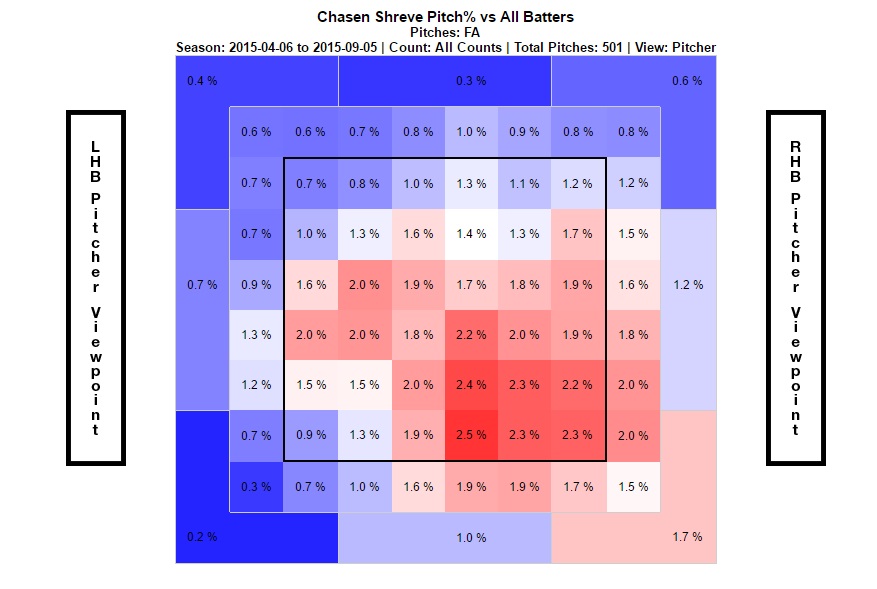 During that span, the batting average against on Shreve's fastball was a mere .179 with a slugging percentage of .305. As he attempted to lift the location, that batting average and slugging percentage spiked to .500 and 1.063, respectively.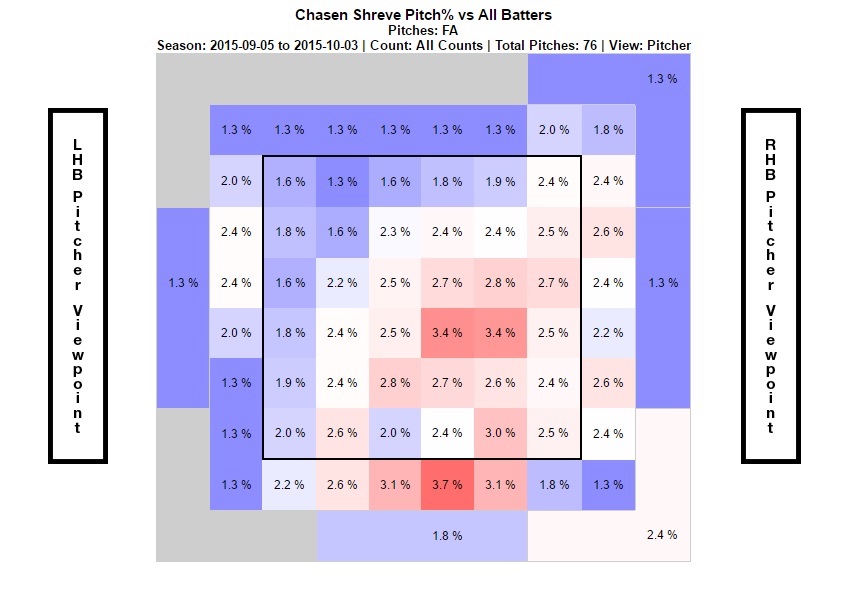 A successful Chasen Shreve was able to interchange his fastball and split-changeup to utter perfection. In order to relapse into his former self, he has to get back to the basics and bury his pitches, lower the location of his fastball and accept a higher walk rate.
What's not broken shouldn't be fixed, and Shreve's attempt to minimize the season-high amount walks he surrendered by bringing his pitches up and into the middle portion of the zone was downright counterproductive.
---
---
A perfect comparison is Michael Pineda, who finished 2016 with a terrific walk rate of 2.72. The control is great, but he hasn't had great located his pitches inside the strike zone meaning his command is mediocre and, if his 27 surrendered home runs is any indication, the results have been appalling.
Shreve has been no different and going back to his traditional game plan or even finding a reliable middle ground could help satisfy what appears to be the weak link of the Yankees' strong suit.