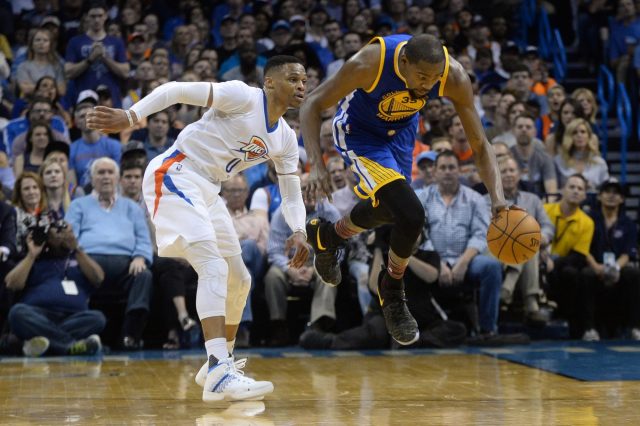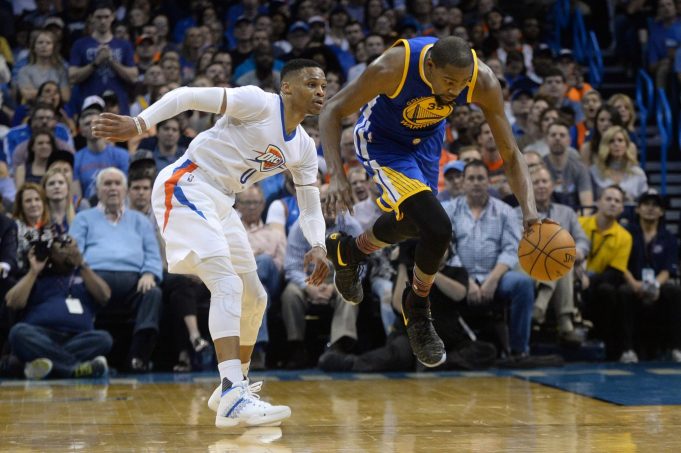 We've all been waiting for Russell Westbrook and Kevin Durant to talk to each other. They did, and it was amazing.
Russell Westbrook and Kevin Durant reportedly haven't spoken to each other since the latter chose to leave Oklahoma City for greener pastures in Golden State.
On Saturday night, the two former teammates turned rivals finally spoke. They talked some trashed and not surprisingly it was instigated by Russ.
Westbrook repeatedly yelled, "I'm coming!" at his former teammate while Durant responded with, "You're losing, though."
Russ to KD: "I'm coming." pic.twitter.com/K3bXR6Ou3Q

— Sports Illustrated (@SInow) February 12, 2017
Kevin Durant and Russell Westbrook really jawing back and forth as they go to the bench. Kevin: "You're losing though."

— Chris Haynes (@ChrisBHaynes) February 12, 2017
Fellow Durant nemesis Enes Kanter decided to get involved, pulling Westbrook towards the bench as the Thunder mounted a rally into the Warriors lead. Maybe that feud wasn't created by the media, Kevin?
Fans have given Durant a hard time all game, booing him and chanting cupcake while also wearing shirts calling him a coward. At least his buddy talked to him, though. It's a blowout in Oklahoma City.