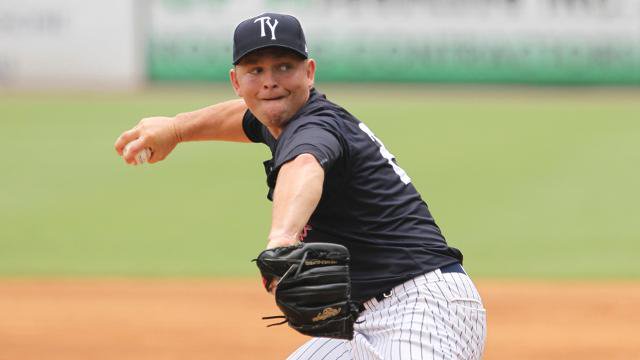 Chance Adams
Chance Adams has made a name for himself in the Yankees' system after completely dominating his opposition last season.
Between High-A Tampa and Double-A Trenton, the righty went 13-1 in 25 games (24 starts) with a 2.33 ERA including 144 strikeouts in 127.1 innings.
He went 5-0 with a 2.65 ERA in 11 starts at Tampa before posting an 8-1 record and a 2.09 ERA across 13 games (12 starts) in Jersey.
That dominance has made Cashman assume he'll be on the verge of a call-up in 2017, and his first taste of Spring Training should be watched with a close eye.
His fastball has hit as high as 95 mph and sits in the 92-94 range, but his curveball wasn't located consistently. Baseball Prospectus called it "loopy" but, in the end, Adams has all the tools to succeed at the major league level.
2017 will be about building on what was a filthy showcase last season and perhaps (thanks to the delicate rotation that will remain unchanged) a major league debut is in store.