The New York Yankees will be entering the 2017 season with no Alex Rodriguez, or could he shock the world and make an unprecedented return?
I
n 2016, longtime
New York Yankees
slugger
Alex Rodriguez
was all but forced into retirement by the team, leaving him with just a special advisor role for the final year remaining on his contract.
The origin of the retirement came from the Yankees just getting tired of seeing an unproductive A-Rod in their DH spot, and they even placed him on the bench in the process. In 65 games, Rodriguez slashed .200/.247/.351 with nine home runs and 31 RBIs.
---
---
After Rodriguez left the team in 2016, it seemed as if the whole globe had shifted, as young talent came up and the team looked rejuvenated. But what if there was potentially an opportunity for A-Rod to come back and get his four homers needed for 700 in his career? It's highly unlikely, but there's definitely a scenario which could let just that happen.
Let's fast-forward to this year's spring training camp to see how this scenario could possibly develop.
---
---
Spring training finally gets underway after a long offseason and newly signed designated hitter Matt Holliday shows up and is ready to contribute for the Bombers. However, in his first at-bat, Holliday goes down with a devastating knee injury that could leave him out for up to six months.
The Yankees are then stuck with what they should do regarding their new hole to fill at the DH spot. Rodriguez is already present due to his special advisor role and decides to step in the cage to take a couple of swings and he looks the best he has in years.
Being around the team again has given the slugger a newly found itch to grab a bat and start playing again. So, Rodriguez gives team owner Hal Steinbrenner a call and informs him of this itch and tells him that he think he could fill Holliday's spot after having a long time to rest his body.
After having a few days to make his decision, Steinbrenner announces that Rodriguez's player contract has been reinstated and that he will have the opportunity to prove himself in spring training to make a big league comeback.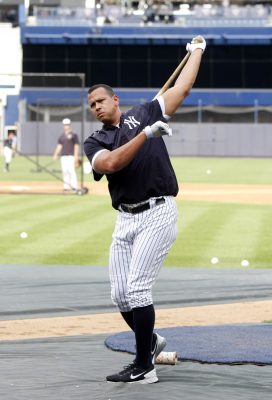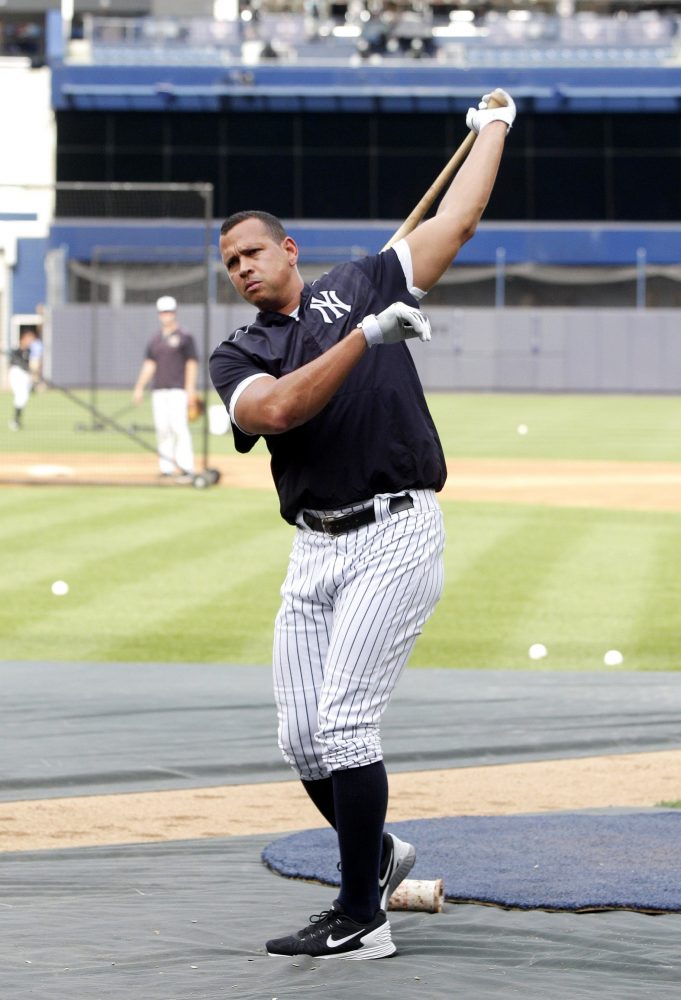 Rodriguez would then take this opportunity and run with it, finishing his spring batting .314 with six home runs in just 15 games. This performance made everyone open their eyes and earned A-Rod a spot in the Yankees starting lineup for Opening Day. The chase to 700 home runs begins.
Opening Day would arrive and it would be a media frenzy at Tropicana Field to see Rodriguez make his return to a big-league field.
As he walked up to the plate for his first at-bat, there was a loud mix of cheers and boos from the away crowd, but also with a heavy presence of Yankees fans.
After laying off the first pitch, Rodriguez took the second pitch, which was a hanging curveball, miles deep into left field to prove all of his doubters and naysayers wrong that he doesn't have anything left in the tank.
The rest of the month of April would be okay for A-Rod, finishing the month batting .276 with three home runs and platooning with youngster Tyler Austin. Rodriguez is one home run away from 700 and it seems as if the entire world is watching him every time he comes up to bat.
In the midst of the madness in the chase to 700, the Yankees are doing much better than anyone thought they would, being in first place by being two games ahead of the second-place Boston Red Sox.
Rodriguez would hit home run No. 700 on May 3 at home against the Toronto Blue Jays.
"I'm just worried about helping the young guys out and helping our team win some ballgames," Rodriguez would say after the game.
The months would go by and it was announced that Holliday was making a remarkable recovery and should be back by the end of June, meaning Rodriguez would no longer be needed as the DH.
Once Holliday returned, A-Rod was subjected to a bench role while hitting .248 with nine home runs and 56 RBIs. However, despite not being on the field, the impact Rodriguez had on the very young clubhouse was remarkable.
---
---
Whenever one of the 'Baby Bombers' was interviewed, all they would do is bring up how much Rodriguez has helped them work on things and help them build chemistry together.
The Yankees would eventually fall out of their perch atop of the American League East, but they would wind up making the playoffs in the second Wild Card spot and would take on the Texas Rangers.
The Yanks would defeat Texas by a score of 4-2, including a RBI double by Rodriguez, moving on to the AL Division Series, where they had to take on the Cleveland Indians.
Cleveland would eliminate the Yankees in four games, but what the new-look Yankees were able to gain from this postseason appearance was some experience. The young roster which featured the likes of Gary Sanchez, Aaron Judge and Clint Frazier gained valuable postseason experience.
Following the conclusion of the World Series, Rodriguez announced he will now be permanently walking away from the game and will attempt to further his career on television. A-Rod is then announced as Kelly Ripa's new co-host on 'Live!'.
While all of this is clearly a well thought out alternate reality, there is a small chance out there that the New York Yankees could be forced to reunite with Alex Rodriguez and if so, he could make a serious impact on the new-look young Yankee roster.