Third base seems locked up with Chase Headley, but the New York Yankees would benefit from trying out various options this season.
W
ho's on first, what's on second and
Chase Headley
is on third. That's how that skit goes, right?
Not quite.
With the 2017 New York Yankees gearing up for another run to the playoffs, they have to realize they have plenty of options at third base besides the streaky veteran.
While Headley is a lock to start the season at the hot corner, the Yankees shouldn't shy away from trying something new. With Brian Cashman stating that Headley might not be in pinstripes much longer, the Yankees have to start making a conscious effort internally to prepare for life after Headley.
With several prospects blossoming in the minors, they still have a long journey before they are ready for the big show. However, there still are options that are big league-ready and have proven they have the chops to make it in the hot corner.
Starlin Castro has been a topic of conversation when it comes to serving as a replacement third baseman. A miraculous athlete, Castro has excelled at second base but might be even more successful at third.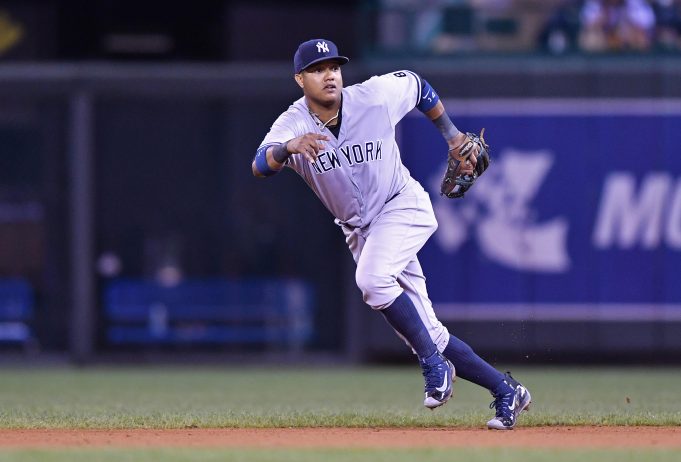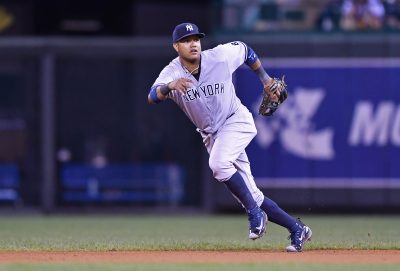 His strong arm and laser-fast reactions would make him an ideal candidate to hold down the left side. Coupled with Didi Gregorius at shortstop, the left side of the infield would be unstoppable. Since this double play duo is familiar with each other, they would excel.
Castro, a former shortstop, has never played third base in his major league career. However, he has stated that he is willing to give it a shot. That willingness by Castro might just lead to something great for the Yankees.
Another option to look into is Ronald Torreyes. While Torreyes has yet to prove his everyday worth, the flashes we saw of him last year were promising. With 2016 being his second season in the major leagues, he proved to be a valuable utility player the Yankees could call on at any time.
Torreyes slashed a respectable .258/.305/.374 line last season and only committed two errors in 245 innings played at the hot corner. Altogether, he averaged a .990 fielding percentage in 67 games.
Even though Torreyes will need to work on arm strength, he has the range and If a trade involving Headley seems imminent, giving Torreyes a shot at the hot corner could benefit the Yankees more than they know.
The forgotten gem of Rob Refsnyder is another option for a replacement third baseman.
Refsnyder didn't get as many opportunities as he would have liked last season, as he continuously shuffled back and forth between the Bronx and Scranton. Refsnyder has only played one inning at third base but he's athletic enough to make the shift to third.
If the Yankees want to keep Refsnyder in any capacity, he would be a candidate for third base. Although he only played in 58 games last season, Refsnyder was never really given a fair shot. Letting him test out his skills at third might be his big break.
The race for third base is far from over. While Headley will still be in the line-up due to his $52 million salary, it would do the Yankees well to try out some different options at third.
The Yankees have all these internal options so when it comes time to trade Chase Headley, they might be able to collect more prospects instead of finding an external replacement.
This season, there are plenty of positions up in the air for the Yankees. The battles for starting positions have already started and the Yankees would be smart to include third-base in that category.