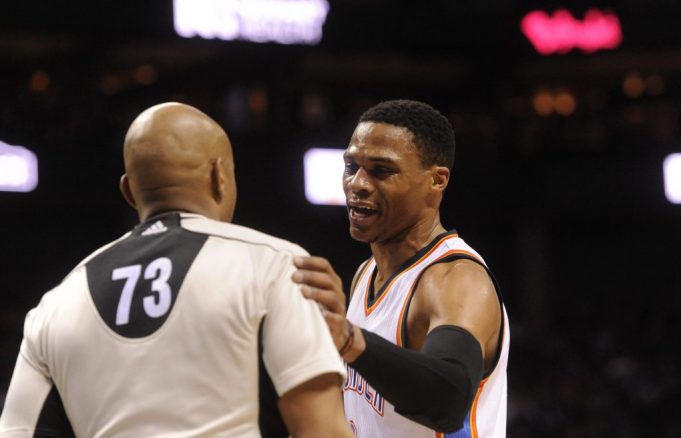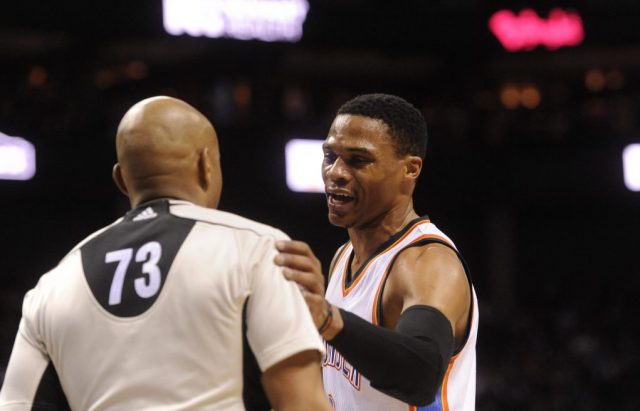 Oklahoma City Thunder superstar Russell Westbrook mistakenly drilled a referee in the head with the ball, leading to a technical foul. 
On Wednesday night against the Charlotte Hornets, Russell Westbrook tacked on his tenth technical foul of the season after he accidently nailed the referee in the head with the ball.
This technical from Russell Westbrook MUST get rescinded. pic.twitter.com/XYhZwpMhgi

— Thunder Nation (@_ThunderNation) January 5, 2017
Westbrook was aiming to pass the ball to referee Tre Maddux following the timeout, but it looks like he wasn't paying attention and got clunked directly on his head and made it evident he was not too happy about it.
Russ would then go over and try to beg and plead with the official trying to explain how it was an accident, but Maddux did not seem to accept the apology and called a technical foul on the Oklahoma City star.
This raises Westbrook's technical foul total for the season to 10, leaving him tied with DeMarcus Cousins for the most in the league and six more away from a suspension.
However, the league will likely review the foul and retract it since the point guard went over to apologize right away and also because it did not look intentional at all.