After many assumptions that New York Yankees' Brett Gardner would be dealt, it may be likely that he'll be the starting left fielder in 2017. 
I
t was the deal everyone was assuming the
New York Yankees
 would make.
Brett Gardner, who is a speedster approaching his mid-30's that has seen a steady decline in stolen bases since 2013, to be traded in order to make room for some kids.
After all, it made sense to think that.
The contemporary mindset of the organization, one that's making it their priority to shave salary but stay in the hunt, doesn't view Gardner as their starting left fielder of the future.
Like they did with Brian McCann, New York hoped they could trade what's left of Gardner's four-year, $52 million contract (two years and $25 million) and fill the void with a highly touted prospect.
For McCann, Gary Sanchez is that kid and the veteran catcher saw him take over right before his very own eyes. Now, it seems as if Clint Frazier gets the call this season, Gardner could watch it all unfold himself.
Sure, it has been thrown around that the nine-year veteran has teams "knocking on the door for him" and how a divisional foe was interested in his services.
But if Gardner were to be dealt, a trade for a young starter with upside would reasonably be the exclusive return to motivate Cashman to deal New York's most valuable draft pick since Derek Jeter.
The discouraging piece to the puzzle is: I'm not sure any un-named team that's supposedly "knocking on the door" have offered an arm with the upside that the two prospects acquired in the McCann deal possess.
Cashman also explained a couple weeks ago that the addition of a starter doesn't seem imminent.
That being said, since an offer doesn't seem forthcoming, it's more convincing that Cashman deals him following the 2017 season when there will be just one year remaining on his contract.
Particularly because of the threshold circumstance.
Next winter, the contracts of Alex Rodriguez and CC Sabathia (combined $46 million) will come off the books along with Matt Holliday's $13 million.
If Cashman could cut all of Gardner's remaining $11.5 million by then, the Yankees could very well fall considerably beneath the threshold which will subsequently reset the tax.
Rather than paying 50% for overstepping the limits of the threshold, Steinbrenner and co. will only be taxed 20%. Thus, extra room to spend on the stellar free agent class of 2019.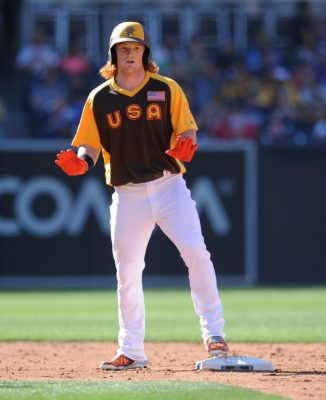 It also doesn't do anything to hinder the current plan. Gardner, in terms of "runs created," his gold glove and on-base percentage, was the most productive Yankee of 2016 and Frazier has yet to dominate the Triple-A level.
Last season, he slashed a mere .228/.335/.447 and while his skills are freakishly abnormal (in a good way), you likely won't see a promotion nor a Gardner trade in 2017 unless his raw bat speed translates to him lighting up the Electric City.
It's more likely that, if Gardner doesn't dip from his .351 OBP (Top-10 in AL) production and Frazier does what he's expected to do, a deal gets done by the 2017 MLB non-waiver trade deadline.
On the other hand, it's the offseason. Cashman could, out of nowhere, swap Gardner for a controllable starter with youth on his side.
However, my belief is that Gardner will be in the Opening Day lineup when the Yankees begin their quest for 28 on April 8 in Tampa Bay. Cashman has not yet been satisfied with an offer nor is he comfortable moving him yet.
Aaron Hicks, despite the strong second half, proved he's nothing more than a reliable fourth outfielder while Tyler Austin has played a mere 19 minor league games in left with a major league strikeout rate of 40 percent.
Cashman wouldn't deal his most dependable outfielder just to do so. After the Matt Holliday and Aroldis Chapman signing, it's clear that winning is still an objective — while giving the kids some valuable experience.
With his astonishingly underrated production, leadership and nine years of major league service, No. 11 helps satisfy both of those aspirations. Until there is pressure or a suitable alternative, there is a high probability Gardner will remain in pinstripes for at least the first four months of next season.
Unless, of course, the price is right. But, nothing proves that those that are "knocking on the door" merit an answer.
---
---