The man who fatally shot former New York Jets running back Joe McKnight was released Friday with no charges.
The tragic news of the death of Joe McKnight broke on Thursday, and Friday didn't make it any better. Authorities have released Ronald Gasser, 54, after gunning down Joe McKnight just a day ago in a New Orleans suburb. McKnight was unarmed.
According to an unnamed witness account via The Times-Picayune, a driver, later identified as Gasser, was seen yelling at McKnight while Mcknight tried to apologize as the two went back and forth at a busy intersection. Gasser then shot McKnight "more than once," and proceed to stand over him and say, "I told you don't you (expletive) with me," before firing a final shot into McKnight.
Gasser remained at the scene until police arrived and turned his gun over to the authorities. After taking Gasser in for questioning, they released him based on his account of the encounter. Gasser isn't in the clear as of yet, as the authorities will meet with the Jefferson Parish District Attorney's Office to discuss if any charges will be brought up against Gasser.
Former New York Jets cornerback Antonio Cromartie had plenty to say of the incident via Twitter:
I don't get it. How in hell do you release someone who killed my brother, my friend a father a son a brother without charging him. Bull Crap

— ANTONIO CROMARTIE (@CRO31) December 2, 2016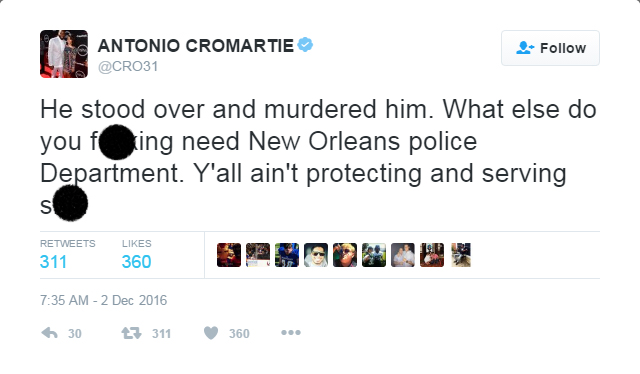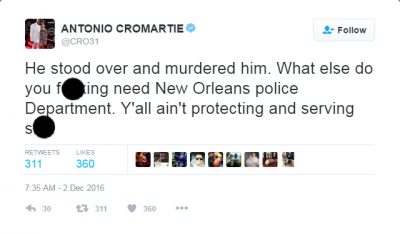 Cromartie wasn't the only one:
RIP Joe McKnight! Something has to change this ain't righ, his family is in my prayers. #StopTheViolence

— Todd Gurley II (@TG3II) December 1, 2016
Colonel John Fortunato of the Parish Sheriff's office is urging any witness to the encounter to come forward. If the incident happened at a busy intersection, someone (see above) has to have seen the encounter and should report it to police so McKnight and his family can receive justice.
May Joe McKnight R.I.P.