While Luis Cessa had an up-and-down rookie season with the New York Yankees, it's far too soon to give up on his talent.
W
hen
Luis Cessa
arrived in the Bronx during the 2016 season, expectations were extremely high for his performance on the mound. Splitting time between the starting rotation and the bullpen, Cessa showed some promise for the future.
With a 4-4 record and a 4.35 ERA, the right-hander had times of brilliance and times of struggle. His biggest disappointment was the amount of home runs he gave up. Cessa surrendered 16 home runs in 17 overall appearances.
The only secure spot in the rotation for the 2017 season would be Masahiro Tanaka. CC Sabathia and Michael Pineda are both probable for the rotation as well based on past performances.
That leaves two spots for five potential pitchers: Adam Warren, Chad Green, Bryan Mitchell, Luis Severino or Cessa.
Fans were up in arms over Cessa last season, especially when he couldn't come through in the big spots. In the thick of the playoff hunt against the Tampa Bay Rays on September 11, he gave up three home runs and four runs in a game that started a skid for the surging Yankees.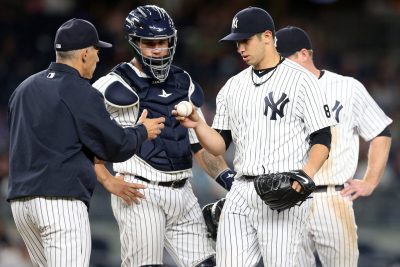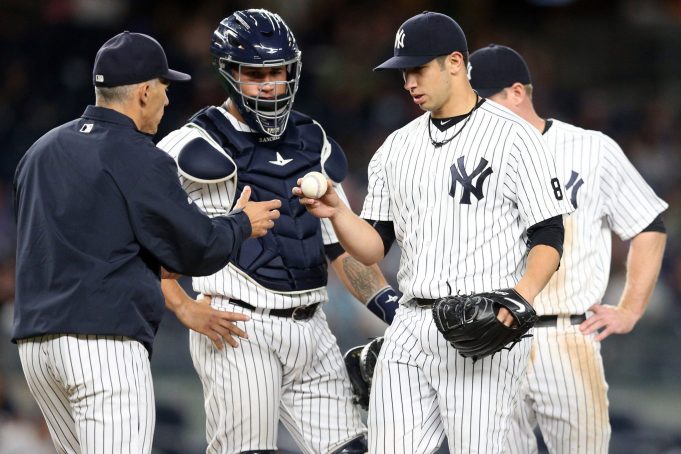 But it's not time to kick him to the curb. It's not time to banish him to the minor leagues. It's time to give the kid a chance because with the more time he spends in the major leagues, the better he'll get.
If Cessa learns to keep the ball down, he'll have a better chance at success in the major leagues. Right now, he is averaging 1.79 BB/9, which is a great stat for a young pitcher. His control already puts him ahead of several other young pitchers.
Despite giving up a good chunk of home runs, Cessa still held hitters to a .239 batting average, which is very good for league standards. Also, 43.2 percent of his batted pitches resulted in ground balls, as opposed to the 37.3 percent that resulted in fly balls. With a strong infield like the Yankees have, ground ball pitchers tend to fare better.
Cessa has four strong pitches as well, including a blistering fastball and a knee-buckling changeup. With those two pitches developed, he also has an arsenal that consists of a curveball and slider. While he uses those in games, he tends to rely on his fastball. Giving him a chance in the rotation or the bullpen would allow him to develop into a more complete pitcher.
Cessa may not have done his finest so far in the Bronx, but his potential is worth taking a shot on. He's only 24 years old and has shown that his accuracy is an asset to his game. It will take some time for him to become comfortable in the spotlight, but he has done a pretty good job so far.
Sure, he may struggle when he gets into the late innings, but the difference he's making in the short time he's on the mound is more than enough. With strong middle relievers, he will need to pull out five strong innings before turning it over to the bullpen.
Despite what people say about Cessa, he truly has the makings of dominant pitcher. But it's just a matter of giving him a chance. The Yankees certainly did that with Gary Sanchez, Aaron Judge and even with Dellin Betances. Why can't they do that for the young hurler?
Cessa needs time to develop, but if we are just getting a taste of what is to come, it will all be worth it.