It took 60 minutes of football between the Dallas Cowboys and Pittsburgh Steelers to prove that the NFL is still king in this country.
F
antasy football. Over saturation.
Colin Kaepernick
. Donald Trump. Freaking Trump, especially, as this Presidential race shaped up like none other.
All of these reasons (and more) were pointed to by the fearless brass who lead 32 NFL owners for why ratings in 2016 were significantly down in the American household. A late October survey, done by Seton Hall University, revealed that the National Anthem protests were playing a major factor in the misfortunes for the multi-billionaires. 
We, still, truly don't know why football has lost a slight grip on its stranglehold of the American people.
What we do know is what happened today, and, suddenly, on the night of Sunday, Nov. 13, 2016, things look a little less foggy.
Kaepernick shot himself in the foot thanks to the no-vote. Trump is now the undisputed President-elect. And the Pittsburgh Steelers and Dallas Cowboys treated the entire nation to a football game that no NFL doubter will soon forget.
The game — that ultimately ended in a 35-30 Cowboys win — reminded many of an old-time shootout. Forget shootout, it was downright crazy.
The stars were out in full force. Ben Roethlisberger, a man who shows his true competitive juices when the time calls for it most, pulled a rabbit out of his hat. With just 46-seconds remaining in the game, another old-time football feeling came into America's TV sets.
Once upon a time, Dan Marino once brutalized young fresh-faced Aaron Glenn of the New York Jets. With Pete Carroll on the sidelines and the Jets playing for first place in the AFC East, Marino showed the faithful at The Meadowlands who was boss.
Since that fateful day, the fake spike had been infused into every NFL playbook. Madden playbooks, even. It's been tried, tested, and altered throughout the course of the last 22 years.
Today, it looked as though Big Ben and Antonio Brown finally perfected it again.
? FAKE SPIKE ALERT! ?

And Big Ben finds @AntonioBrown in the end zone.
WOW. #DALvsPIT https://t.co/4GgDIDgvvS

— NFL (@NFL) November 14, 2016
That alone, the sixth lead change of the afternoon, would have been enough for football fans to reclaim their sport as top dog. But something funny happened afterward. Something called out attention to "history" and "old school" yet again.
Dak Prescott and Ezekiel Elliot happened. This time they "happened" in an undisputed fashion.
The two rookies who've now taken their Cowboys on an eight-game winning streak have fully allowed even casual onlookers to remember the names of Troy Aikman and Emmitt Smith — two youngsters who came to Dallas during the late 1980s and eventually turned into three-time champs. Two young guns who took a miserable franchise dying at the old hands of Tom Landry and turned it into a golden era.
On this day, neither was more impressive than the other.
Prescott — who's continually dealt with the noise of Tony Romo's footsteps behind him — was cool, calm, and unbelievably poised all afternoon. Not even when Big Ben pulled that rabbit out and got Heinz Field in a frenzy did he relent that typical composure of his. He simply rounded the troops, provided a pound to each of his dominant offensive linemen, and sent a message on the playing field.
The last 42-second drive resulted in Elliot dominance and a Dallas victory:
ZEKE with the go-ahead TD!!!
Only 9 seconds remain.

Wowowowowowowow. #DALvsPIT https://t.co/69sn9wdn3H

— NFL (@NFL) November 14, 2016
With his 114 yards on the day, Elliot is now over 1,000 on the season. Incredibly, his 209 all-purpose yards against Pittsburgh doesn't tell half the story.
The other half boils down to the dominance of this offensive line.
Which brings us to "old school" thought No. 3.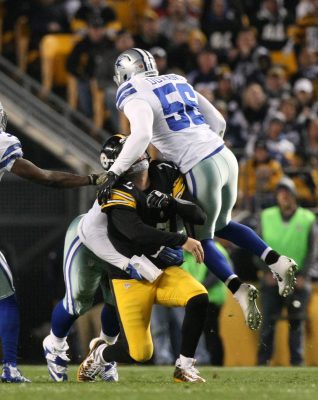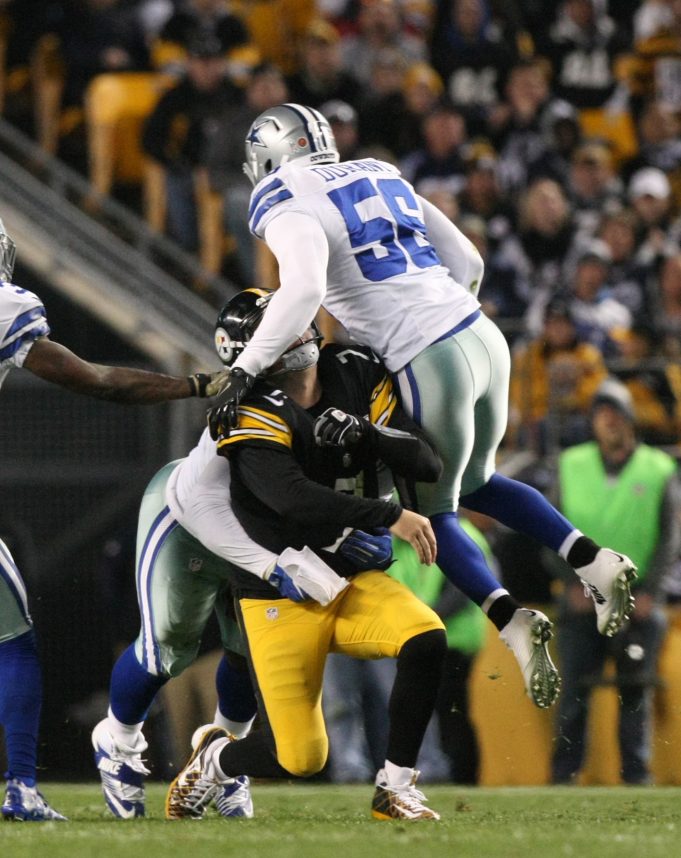 Like Aikman and Smith, these two youngsters also have big nasties in front of them who need mirroring of their own. From names like Nate Newton, Mark Stepnoski, and Erik Williams now come Zack Martin, Tyron Smith, and Travis Frederick. If this O-Line is rated 99 of 100, then the second-best unit in the league doesn't even crack 70. It's their unheralded dirty work in the trenches that especially reminded folks at home why the game Joe Buck and Troy Aikman called on Sunday was an instant classic.
From roughhouse rushing to high-flying passing to old-school trickery while playing limited mistake football (one total turnover), this game had it all. There were even six two-point conversions attempted. Yeah, that's right, six.
One team now rides a four-game losing streak. Don't feel bad, though. They still have a guy leading whose ice water running through his veins is as cold as ever and too many Vince Lombardi Trophies in the bag to ever shed a tear over. The other team? Well, the
The other team? Well, the other team is on the verge of special things, special conversations mirroring past greatness.
It's all one heaping pile of football conversation NFL fans will ride from now into Week 11.
At least for one day, the Dallas Cowboys and Pittsburgh Steelers proved why football, and especially the NFL is still king.