Even if it was for one night, UFC's Conor McGregor was the star athlete that New York City has been craving. 
S
aturday night was arguably the biggest night in UFC history. After years of fighting for the legalization of mixed martial arts, the Dana White-led brand made their much-anticipated debut in the World's Most Famous Arena.
Rarely does a fight card meet expectations, but it was only so fitting that the star-studded lineup surpassed the hype at Madison Square Garden.
A tremendous undercard — featuring the retirement of Miesha Tate, an all-out slugfest between Joanna Jedrzejczyk and Karolina Kowalkiewicz, and the rare majority draw in the Welterweight Championship showdown — was topped off by a history-making Conor McGregor victory.
Who else could end UFC's biggest show, in a legendary arena, in the greatest city in the world, but the company's most polarizing — and dominant — athlete.
After a 2nd-Round knockout in UFC 205, Conor McGregor knows he is in a league of his own. pic.twitter.com/XSzHpz4jFN

— SportsCenter (@SportsCenter) November 13, 2016
New York City is known for its bright lights and for never sleeping. It's known for a blue collar work ethic with a swagger to match. It's known for its star power, in all walks of life.
One of the ways this city lives up to its reputation is because of its rich sports history.
Go up and down each team's history. The New York Yankees — arguably the most popular franchise in sports history — has had their fair share of superstars. From Babe Ruth to Mickey Mantle, from Yogi Berra to Reggie Jackson, from Don Mattingly to Mariano Rivera, it's hard to imagine a time when a man in pinstripes wasn't the talk of the town.
The New York Mets, too, have run this town. Whether it was Doc Gooden and Darryl Strawberry in the 80s or Mike Piazza putting the entire city on his back in the aftermath of 9/11, they've been as big a part in New York City history than anyone else.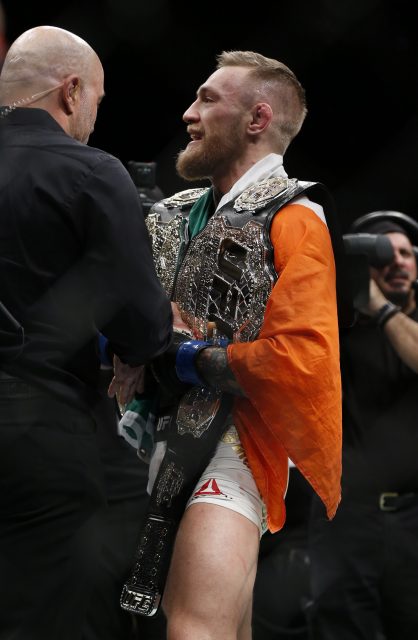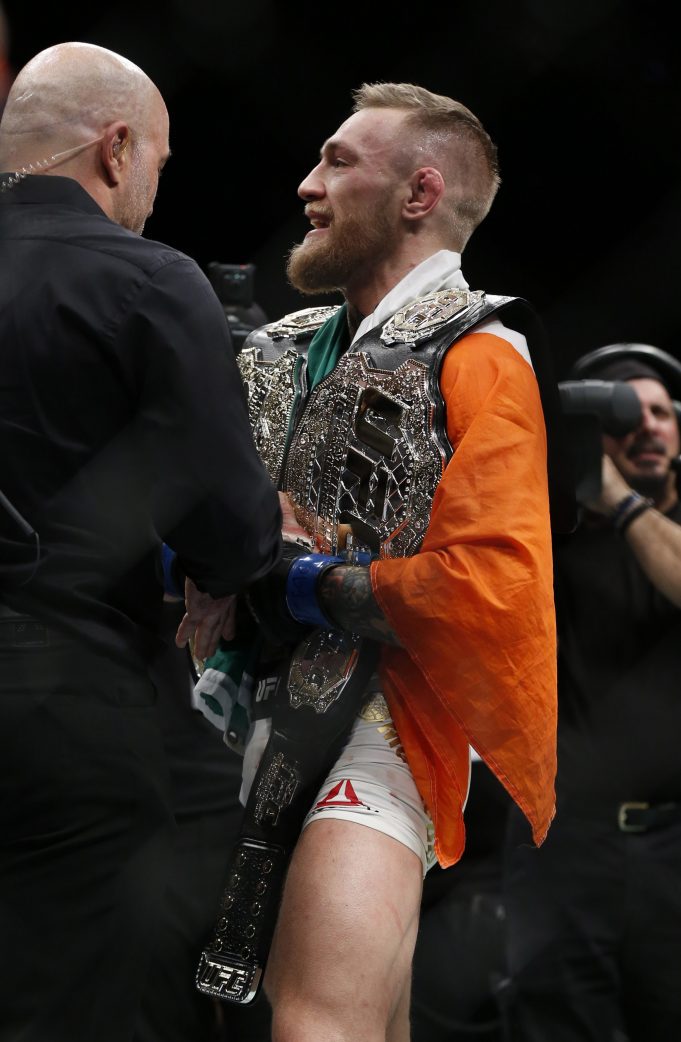 But it doesn't stop there. The New York Giants had Lawrence Taylor and Phil Simms and Michael Strahan. The New York Jets had Joe Namath and Mark Gastineau and Dennis Byrd. The New York Islanders won an astonishing four Stanley Cups in a row, while Mark Messier was guaranteeing wins for the New York Rangers years later.
The New York Knicks of the early 1990s embodied New York City to a tee. Before that, they had legitimate superstars like Walt Frazier and Willis Reed bringing NBA Championships to The Garden.
In today's day and age, however, that one star — that Mickey Mantle, that Joe Namath, that Mark Messier, that Patrick Ewing — has been missing in action.
The Yankees haven't had that true star since Derek Jeter retired.
Eli Manning may have one of the best resumes in New York Football history. But his bland personality — one that has brought him much success with the Giants — makes him one of the most boring stars.
Hockey isn't a big enough sport to make former-superstar Henrik Lundqvist or the criminally underrated John Tavares household names.
No matter how many times Carmelo Anthony pledges his allegiance to Broadway, it appears as though the city will never fully embrace him.
The Mets starting rotation — most notably Noah Syndergaard — has the chance to take the cake as New York's biggest star. It is, however, too early to make that case.
The Jets have no one. The Nets have no one. NYCFC and the New York Red Bulls don't have enough mainstream popularity. The New Jersey Devils, Buffalo Bills, and Buffalo Sabres are more like red-headed step children than anything else.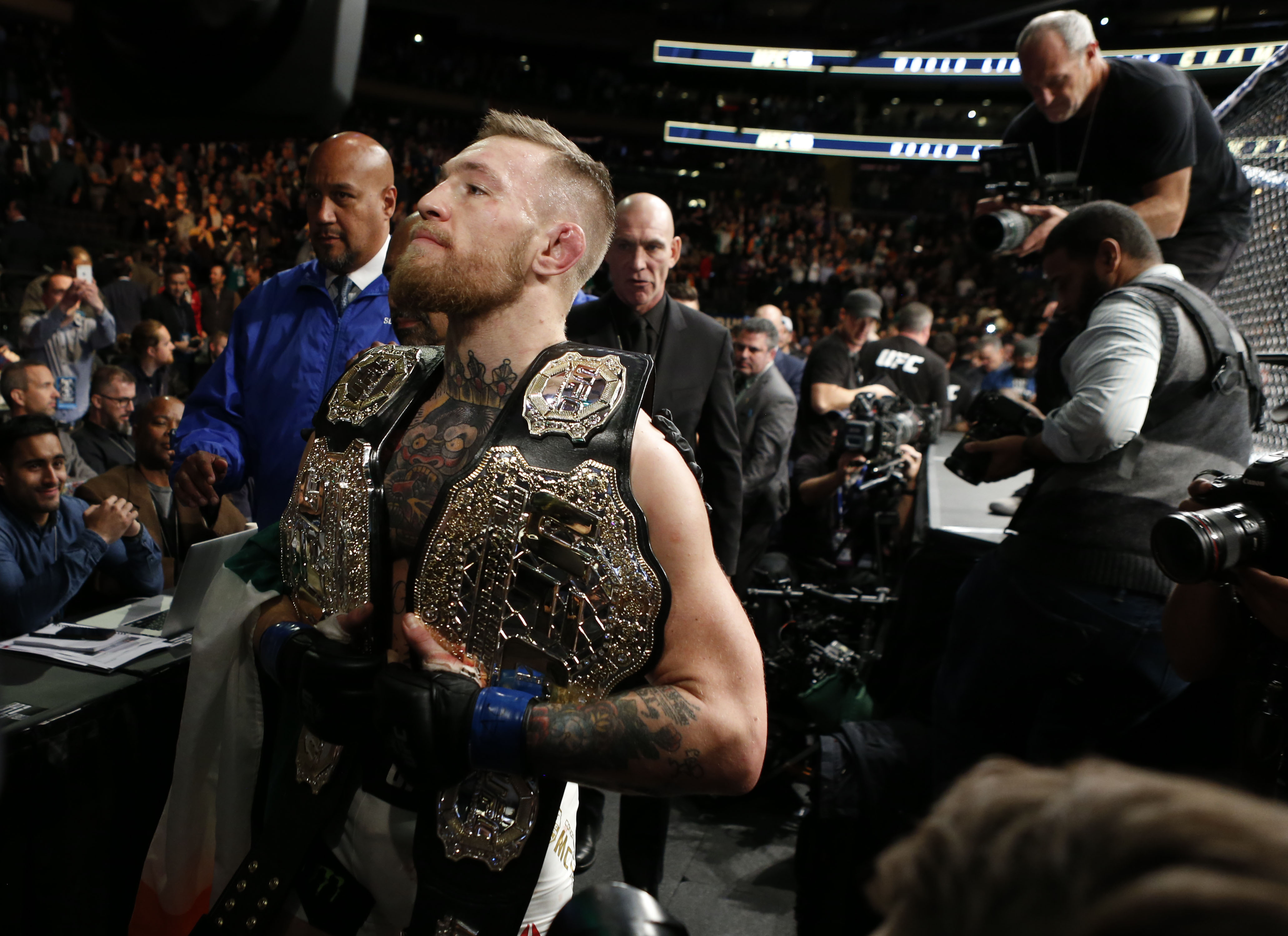 On November 13, it was McGregor's chance to shine on a stage he had yet to fight on. And in typical fashion, he relished the opportunity to do so.
McGregor was tailor-made for this city. The 28-year old Ireland native is the UFC's equivalent to Mike Tyson — their marquee star. He entered Saturday night with a 20-3 record (including 17 knockouts), with victories against names like Jose Aldo and Nate Diaz.
Already with the UFC Featherweight Championship in tow, McGregor walked into The Garden with a chance to capture the UFC Lightweight Championship from Eddie Alvarez.
Sure, McGregor did his best Messier impression and guaranteed a first-round knockout. While that didn't happen, the outcome was never in doubt. McGregor toyed with Alvarez throughout the bout and was able to secure his 18th career knockout in the second round.
If you heard the reactions from the MSG crowd during the post-fight interview, you would think he grew up in Brooklyn instead of Dublin. As McGregor spoke, the fans roared.
His brash personality was on full display, and it was met with the delight of the sold-out arena. As he raised his two belts — the first UFC fighter to ever do so — it sounded like a local team just won a championship.
McGregor dresses like a million dollars and walks into the arena (this time, to the tune of I Get Money by New York's own 50 Cent) knowing he's going to end the night with his hand raised. He works extremely hard for his achievements, but he has no problem letting everyone know he deserves what he gets.
New Yorkers love nothing more than someone who backs up what they say. And there's no doubt McGregor can talk the talk just as well as he can walk the walk.
The saying, "if you can make it here, you can make it anywhere" is true in every sense of the word. Even though it was only one night, McGregor made it.
And in turn, he became the star that New York has been craving.