The first week of the 2016-17 NBA season is in the books, and some of the league's biggest names have already made an impact.
T
he NBA is back with a bang. Most teams have played just two or three games, but that's enough for fans to become excited about the long season ahead. Several narratives have already started to take shape for the top players and teams.
Oklahoma City Thunder point guard Russell Westbrook, in particular, has been the subject of countless headlines. The superstar point guard has been the high usage triple-double machine we all assumed he'd be without teammate turned rival Kevin Durant.
Westbrook has been putting up numbers that defy logic. After coming up an assist short of a triple-double in Oklahoma City's debut, he notched massive numbers in the next two contests.
Westbrook hasn't just been incredible over the Thunder's first three games; he's made history.
The 27-year-old became just the fourth player in league history to post two triple-doubles over a season's first three contests, joining the elite group of Magic Johnson, Jerry Lucas, and Oscar Robertson.
He's the first player to begin a season with 100 points, 30 rebounds, and 30 assists over the first three games.
Westbrook's 51-point game against the Phoenix Suns was the highest-scoring triple-double since Elgin Baylor in the 1961-62 season and the third-highest all-time.
Russell Westbrook's 51 points are tied for 3rd-most in a triple-double pic.twitter.com/WXVNNWI1he

— ESPN Stats & Info (@ESPNStatsInfo) October 29, 2016
As impressive as all those numbers are, the most eye-opening stat is his 44 FGA against Phoenix. Victor Oladipo was the only other Thunder player with double-digit attempts (17). Russ took 45.8% of OKC's shots in that game and had an incredible usage percentage of 49.8%. So basically half of the Thunder's offensive possessions were used by Westbrook.
Russ took 45.8% of OKC's shots in that game and had an incredible usage percentage of 49.8%. So basically half of the Thunder's offensive possessions were used by Westbrook.
His chart against the Suns gets worse as you move further away from the rim. Russ was 2-of-10 from downtown.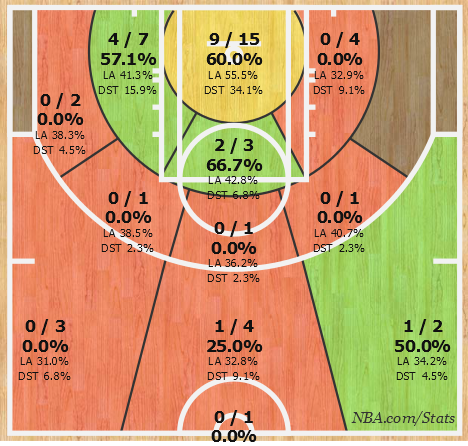 The criticism, because as always there is criticism, about Westbrook's game has been that the Thunder aren't blowing teams away. They've won their first two games by 6 and 3 points respectively before beating the rebuilding Los Angeles Lakers by 17 on Sunday, Oct. 30.
Westbrook shouldn't necessarily make putting up 20-plus shots an every game occurrence, and he shouldn't have to. Oladipo (.340) and Steven Adams (.444) have both struggled from the field over the first three contests. OKC is banking on the fact that won't continue.
They re-upped with Oladipo and Adams on Monday, the last day that teams could extend the contracts of first-round picks from the 2013 draft, for big money. The Thunder committed to the supporting cast around their franchise point guard.
The Spurs are Still Spursing
One team that hasn't had any trouble so far has been the San Antonio Spurs. They haven't lost a step after the retirement of their legendary leader Tim Duncan. The Spurs have sprinted out to a 4-0 start thanks in large part to the play of Kawhi Leonard.
Leonard has been the best player on the team for a few years now, but in Duncan's absence, he's become the face of the franchise.
The sixth-year veteran out of San Diego State is averaging 31.3 minutes, 28.0 points, 4.3 assists, 3.5 rebounds, 3.3 steals, and 0.3 blocks on a slash line of .500/.267/.950.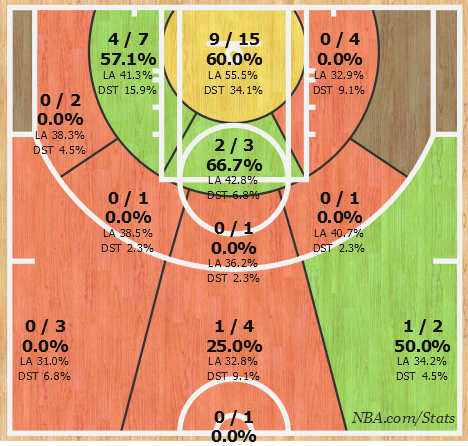 Leonard struggling with his threes hasn't mattered because Patty Mills has been so good from downtown that the Spurs have the top three-point percentage in the league.
Then there's the benefit of Leonard's ungodly efficient midrange shooting. As of now, he's made 14-26 (.538), per NBA.com. Only three players have taken more midrange attempts than Leonard this season, and none of them are shooting a higher percentage. The midrange game isn't dying if you can shoot it at that high of a clip.
Of course, it hasn't been all Kawhi that's gotten San Antonio off to this hot start. David Lee (on his second chance at a career rebirth) looks better than he has in years. He even got the star on Sunday in place of LaMarcus Aldridge (rest) and almost notched a double-double.
Dewayne Dedmon, one of the offseason's most underrated signings, is finally seeing the floor on a consistent basis and has responded with an astronomical offensive rating of 140 and a team-leading defensive box plus-minus 5.2. That 140 ORtg from Dedmon is dwarfed only by the previously mentioned Patty Mills (146) who's been tearing it up as Tony Parker continues to show signs of aging.
You also need to keep in mind that the Spurs are second in points per 100 possessions right now while Aldridge and new acquisition Pau Gasol are yet to even hit their offensive strides.
We entered the season thinking this was a two team race to the finish line between Golden State and Cleveland. When San Antonio pummeled the Warriors on opening night, it was to send a message that the super team was mortal. And more importantly, they weren't going to be intimidated by them.
Last season's Spurs had one of the best defenses of all time and were still bounced in the second round. They responded by adding Gasol for that needed scoring punch.
It's still extremely early, but San Antonio looks like an improbable third title contender.
Chip Murphy covers the NBA for Elite Sports NY. You can find him on Twitter @ChipperMurphy.
Save
Save
Save