After 71 years, Chicago Cubs' faithful may witness their team clinch the long-awaited pennant they so desperately desire.
Los Angeles Dodgers (2-3)
Chicago Cubs (3-2)
NLCS, Game 6, 8:00 pm EST, FS1
Wrigley Field, Chicago, IL
T
he script is there, and now it is on the 2016 Chicago Cubs to flip it. Following two consecutive crucial wins on the west coast, the notorious "lovable losers" can partake in a Fall Classic for the first time since 1945 with one win in the next two days.
The horrors of Game 6 of the 2003 NLCS against the (then) Florida Marlins can quickly be erased. The nonsensical talk of a curse; the silly belief of bad spirits siding with the franchise.
All of that can potentially be eliminated with merely one more stellar nine inning performance out of a team that executed 103 of them over a 162-game span in the regular season.
LA ➡️ Chicago. #FlyTheW pic.twitter.com/SWHn7r6bgt

— Chicago Cubs (@Cubs) October 21, 2016
Tonight, it is about nothing other than the two men toeing the rubber for their respective teams. Two men who have greatly aided their pitching staff's success. One who has been a constant for the entirety of the season, and one who has overcome a significant injury and revamped his "best pitcher in baseball status" at the most opportune time.
Kyle Hendricks and Clayton Kershaw.
Kershaw.
Hendricks.
Game 6.@Gillette pic.twitter.com/ONmt55xSCP

— MLB (@MLB) October 22, 2016
Throw the regular season in the trash. This is about tonight, and tonight only.
The two squared off back in Game 2. Hendricks was good enough, but Kershaw was great. The eventual outcome reflected just that.
Simply put, the Cubs need more than good enough tonight if they expect to avoid an anything-can-happen Game 7 — we know how that went down 13 years ago, following a dreadful Game 6 letdown.
Kershaw has found his identity on the postseason stage, something that was nowhere to be found in his first handful of tries under the spotlight. Hendricks, on the other hand, has shown an exceptional quality of limiting the damage, yet has been nowhere near what he can be.
Location has been problematic for the 26-year-old, who must bury his sinker at a much more promising clip. When the most devastating pitch in his arsenal is not placed at the ankles, or the least fattening corner of the strike zone, this happens:
What was the difference in Game 2 can ultimately be the deciding factor in Game 6, especially considering how lame Kershaw made a potent Cubs lineup look his first time around.
Take 'em to school: @ClaytonKersh22 is resurrecting his high school sidewinding ways … and throwing HEAT. https://t.co/wbMrzRgVHW pic.twitter.com/kvRJ038pno

— MLB (@MLB) October 22, 2016
Players To Watch
Anthony Rizzo – CHC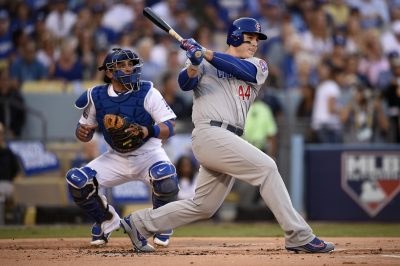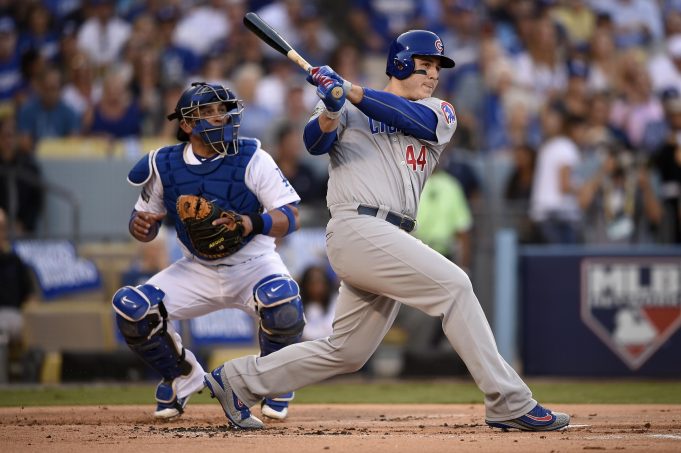 After going a miserable 2-26 (.077) with no RBI in his first seven 2016 postseason games, lasting through NLCS Game 3, Rizzo came alive in Games 4 and 5. With the Cubs desperately needing his production, trailing two games to one, he went 5-10 with a homer and four RBI, propelling his team into the driver's seat.
The 27-year-old first baseman has been through it all in Chicago, serving as a cornerstone of Theo Epstein's masterful rebuild and eventual organizational surge to relevance. You can bet that this is all he has been waiting for.
Rizzo is 3-11 with one home run and two RBI in his career against Clayton Kershaw. If he runs into one tonight, that may be all the Cubs need.
Justin Turner – LAD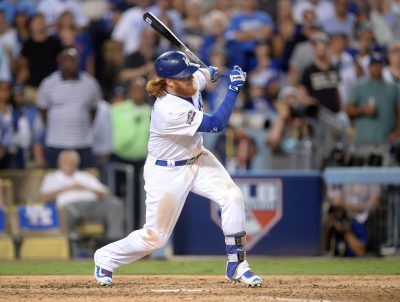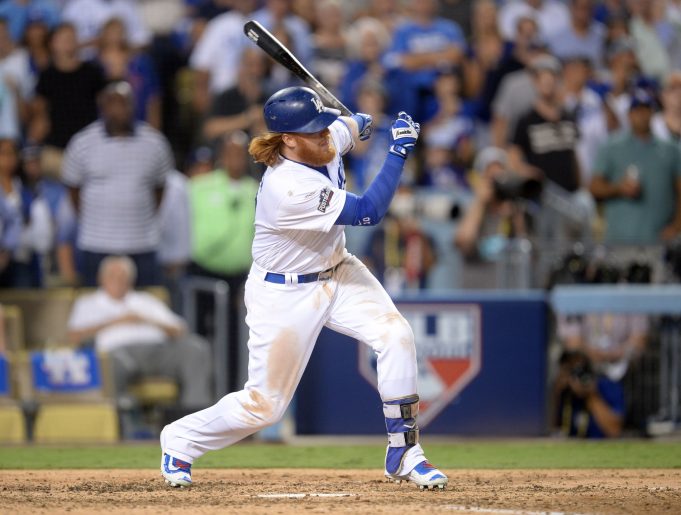 Kyle Hendricks got away with multiple mistakes in Game 2, with the Dodgers only capitalizing on Adrian Gonzalez's lone solo shot. If he makes the same mistakes tonight, you can guarantee that the LA bats will be ready.
Justin Turner is no exception.
With a home run and three RBI in just seven career at-bats against Hendricks, he knows exactly how to take advantage of a poorly located sinker.
The 31-year-old can very well be the difference-maker tonight. All it takes is one swing.
All is calm at Wrigley.

Don't get used to it. #NLCS Game 6 at 8pm on @FS1. https://t.co/KX8AZViNx6 pic.twitter.com/G3pwbm4niq

— MLB (@MLB) October 22, 2016
Can @ClaytonKersh22 force a #Game7?https://t.co/UY9AAn8vRd

— MLB (@MLB) October 22, 2016
Or will @kylehendricks28 deliver a clinch?https://t.co/pJHnnAXty7

— MLB (@MLB) October 22, 2016
Bold Prediction
Both starting pitchers are brilliant, taking shutouts into the seventh inning. With the game knotted at 0-0 in the top half of the seventh, Justin Turner takes Kyle Hendricks deep to left-center for a back-breaking two-run shot.
Clayton Kershaw fires seven more shutout frames, allowing just five hits while striking out 10. The Dodgers tack on another run late and take Game 6 by a score of 3-0, forcing a Game 7 on Sunday night.
---
Emmanuel Berbari is Elite Sports NY's Editor in Chief. Interact with him on Facebook or Twitter. He invites you to email any questions, comments, or concerns as well.
---