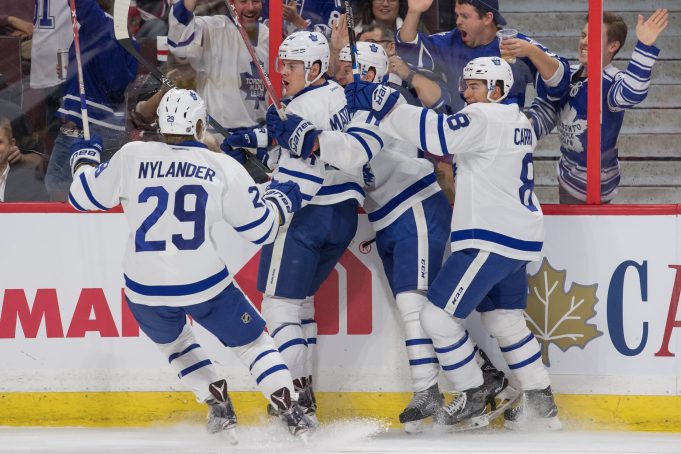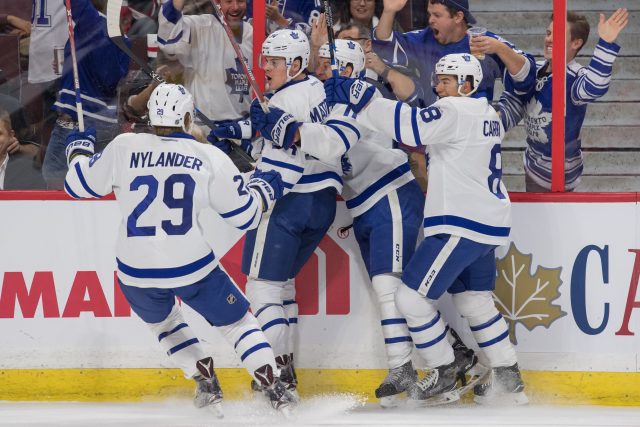 Number one pick Auston Matthews scores four goals in the first two periods of his very first game with the Toronto Maple Leafs.
The first overall draft pick from the last NHL Draft was Auston Matthews. Matthews who has only played two periods in the NHL has already scored four goals. You can read that as many times as you want, your eyes did not deceive you.
The Toronto Maple Leafs 19-year-old center has struck gold in his first NHL game.
Shows up, ties skates, sets modern-day record. pic.twitter.com/tk6Zyt1uJt

— NHL (@NHL) October 13, 2016
Matthews started the scoring by lifting a pass from behind the net over the already sprawled out Craig Anderson. His second goal came unassisted while dancing through the Ottawa defense to eventually sift a shot through on a tight angle. His third goal (this is getting ridiculous) came from the net mouth on a one-timer off a pass from the corner.
Let's top off the craziness: Those were his first three shots in the NHL. The fourth goal came off of a pass from William Nylander.
Auston Matthews is the first player in NHL history to score four goals in his NHL debut.