August 13 was the beginning of a new era in the Bronx, as the powerful free swinger in Aaron Judge made his first major league start. Since then, fans have been raving over his home run power and giant presence on the field.
However, there is another prospect waiting in the wings and he already has made a stellar impression for the New York Yankees.
While Mason Williams hasn't had the playing time that Judge has experienced, he has already shown that he's fit to be a prominent member of the outfield for the Yankees.
With Brett Gardner and Jacoby Ellsbury beginning to show their age on defense, a goal for the Yankees should be to start turning towards their young guns to fill in the gaps. Williams certainly has the defensive capabilities to take over a prime spot in the outfield.
At 25 years old, he is a lefty-hitting prospect, which is a rarity in the Yankees' organization but, even better, his speed would be a perfect addition to the outfield, one that is starting to slow down.
In fact, he has made some amazing defensive plays in his short time up in the Bronx, including most recently in September to rob Tampa Bay's Richie Shaffer of a base hit. Or who could forget this beauty in Baltimore a year ago:
As far as speed goes, he is undoubtedly faster than Judge and not afraid to lay out to make risky catches. With Judge's 6'7″ frame, his size takes away from his overall speed but helps him casually rob home runs from the short porch. However, from what Williams lacks in size, he makes up for in speed, which is just what the Yankees need.
Offensively, Judge has the power while Williams has the consistency. He has a larger sample size, which has also shown his inconsistency and vulnerability at the plate. In 84 at-bats, Judge recorded 15 hits, including a monster home run in his first major league plate appearance.
All in all, he stroked four home runs before succumbing to an oblique injury, ending his already shortened season.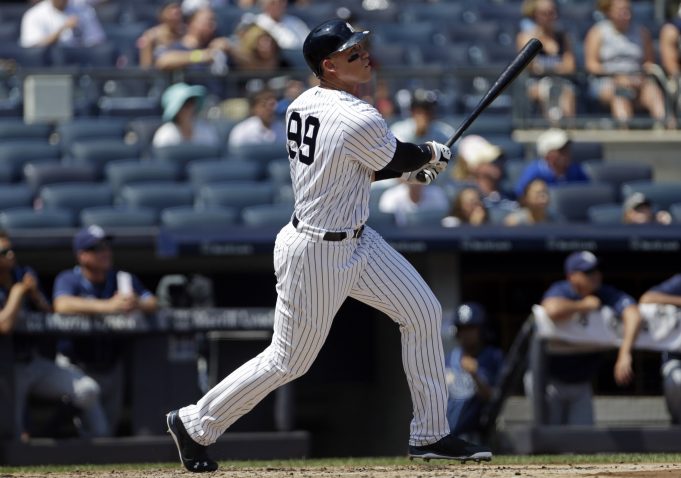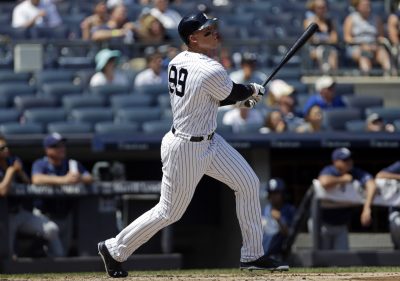 Even though Judge came up with high expectations, major league pitchers learned fairly quickly that he excelled at hitting fastballs but struggled against off-speed pitches. Still young, Judge's at-bats are a work in progress. In his 95 plate appearances, he also struck out 42 times.
Williams likewise struggled early in his minor league career, but has shown off his plate presence in his time in New York.
Called up last season for eight games, Williams went 6-for-22 at the plate, including a home run. This season's call-up resulted in an 8-for-29 performance, including four runs scored.
While he may not hit home runs quite like Judge can, Williams still utilizes his speed in the outfield and his careful eye at the plate to make a case for a very entertaining young outfielder. He is a complete player that can give the Yankees a strong addition in the outfield and a consistent hitter at the plate.
Williams and Judge were both popular prospects throughout their time in the minors. While Judge got the nod first, Williams still has a shot to make a splash if the New York decides to move around their outfield.
Everyone seems to be focusing on the monster power of Aaron Judge, but all eyes should be on Mason Williams because he has the capability of being the next great Yankees' outfielder.