With Starlin Castro out for the remainder of the season, it's time to look back and evaluate his first season with the New York Yankees.
On December 8, 2015, the New York Yankees sneakily acquired Starlin Castro, the young Chicago Cubs phenom. Now, on September 20, 2016, that trade is proving to be a big reason why the Yankees were in a hotly-contested playoff race.
While Castro's season ended early with an unfortunate right hamstring injury on Saturday afternoon in Boston, his performance this season has given fans hope for the future.
The 26-year-old shortstop-turned-second baseman has been a bright spot in a position that has been up in the air since Robinson Cano left for the Seattle Mariners. Castro's predecessors in the Bronx were Brian Roberts and Stephen Drew, both unreliable, aging players.
Defensively, Castro served as the perfect compliment to shortstop Didi Gregorius. Both young and athletic, these two connected right away and have been turning stellar double plays all season long. Castro also resembles Cano's style of play in the field: calm, cool and collected.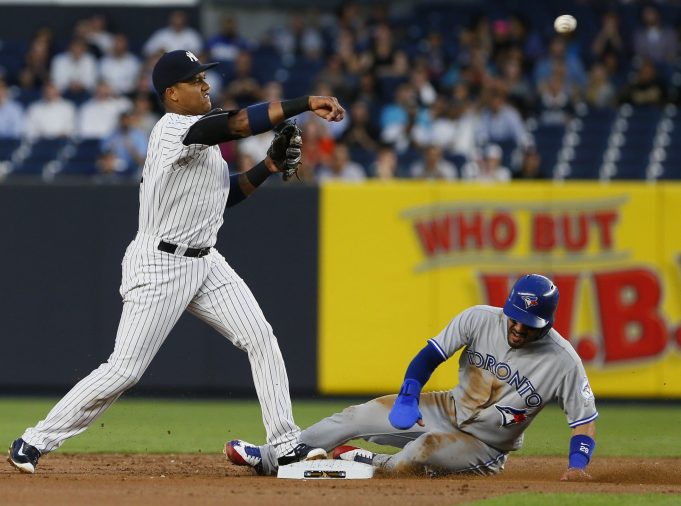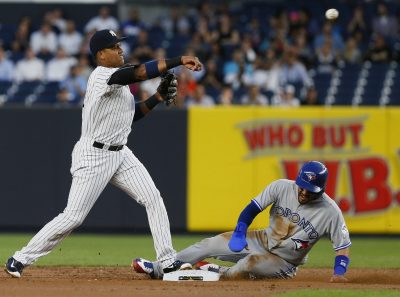 In 146 games at second base, Castro only committed 11 errors, a career-low. He also boasts a .981 fielding percentage, also the lowest in his seven years in the majors. He has helped turn 68 double plays from his new position this season.
While the stats tell the story, he also has made some stellar plays that can't be told by numbers. His relaxed style of play has lead to some entertaining and amazing plays.
Offensively, Castro made a splash that proved his worth right away. With pop in his bat, he slugged 21 home runs this season, seven more than his previous career-high. With a .273 BA and .439 SLG, Castro was a huge catalyst in getting the lineup to start producing.
Additionally, his home run total makes him only the fourth second baseman in Yankees' history to hit more than 20 home runs in a season. Cano, Alfonso Soriano, and Joe Gordon were the only other ones to do so.
https://www.youtube.com/watch?v=41hnyezO_BQ
While the offense has been up and down, he played a huge role in leading the Yankees down the stretch.
His numbers in August go unnoticed, since the call-ups of young players, but he still managed an outstanding .313/.333/.571 slash line while slugging eight homers.
In fact, in his first month in the Bronx, Castro posted a .305 batting average, which included his impressive performance in his first two games in pinstripes. Starting off the season on a hot note, Castro plated seven runs in his first two games.
Needless to say, Castro has made a name for himself in the Bronx and doesn't look to be going anywhere soon.
His first year in pinstripes was an exceptional indicator of the type of talent he will develop into. However, he still has some things to work on.
For one, his plate discipline is downright atrocious. When Castro has two strikes on him, he is batting right around .200, while striking out 40% of the time. He is oftentimes found flailing at pitches out of the strike zone to end his at-bats.
All in all, Castro's first season in the Bronx can be deemed an enormous success. He has unquestionably slipped right into the culture in the Bronx and looks like he's been there for years.
Trading for Castro was a bold move by the Yankees, which was already paid off in dividends. "Darlin' Starlin" has already won over the Yankee faithful and if his performance next year emulates this season, he will certainly be a popular player in the Bronx.