Brock Lesnar, a UFC/WWE star, has received a suspension resulting from two failed drug tests surrounding UFC 200.
A
fter test results came out indicating that Brock Lesnar failed two drug tests during his return to UFC at the UFC 200 PPV, a temporary suspension was put under his belt. But what does this suspension mean for Lesnar's career?
After a five-year hiatus from the octagon, Lesnar made his much-anticipated debut at UFC 200 on July 9, 2016, facing off with Mark Hunt. There was even controversy regarding the timing of his drug test being weeks before the fight. Since he was not under UFC contract four months prior to the fight, it created issues.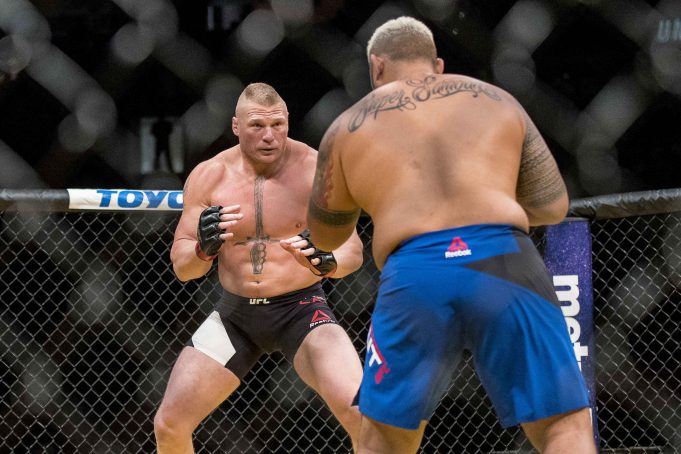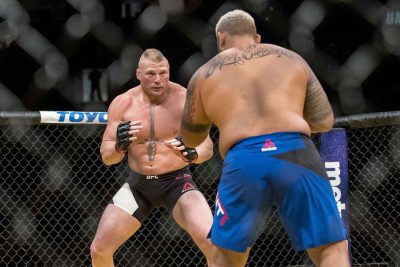 Therefore, UFC exempted Brock from the tests because they needed a big fight for the PPV since McGregor/Diaz II was moved to UFC 202.
Brock would eventually wind up winning the underwhelming fight by unanimous decision.
In section 5.7.1 of the UFC's anti-doping policy, the following is stated:
An Athlete who gives notice of retirement to UFC, or has otherwise ceased to have a contractual relationship with UFC, may not resume competing in UFC Bouts until he/she has given UFC written notice of his/her intent to resume competing and has made him/herself available for Testing for a period of four months before returning to competition. UFC may grant an exemption to the four-month written notice rule in exceptional circumstances or where the strict application of that rule would be manifestly unfair to an Athlete.
This is the rule that had to be exempt for Lesnar which came into question before the fight.
When Hunt was asked about his take on situation by FOX Sports Australia, he said:
"I think he's juiced to the gills — and I still think I'm going to knock him out, I think it's load of bulls***. I don't think anyone should be exempt from testing. If they're trying to clean the sport up — mixed martial arts — this is a bad way to do it. I don't care who you are. It's ridiculous."
Lesnar was tested by the USADA five times prior to the fight but the results were not able to make it out in time before July 9.
When asked on a media conference call about the testing speculation, Lesnar said, "I'm a white boy and I'm jacked — deal with it. What do you want me to say?"
On Tuesday, the Nevada State Athletic Commission revealed that Lesnar tested positive for clomiphene and hydroxy-clomiphene, which is a metabolite of clomiphene. Clomiphene is used, especially by steroid users, at the end of a cycle to help restore the body's natural production of testosterone.
The two drug tests that Lesnar failed were on June 28 and, the night of the fight, July 9. This shows that there was definitely something in Brock's system the night of the fight that shouldn't have been there.
So, how does this affect Lesnar's career in WWE?
Regarding Lesnar competing in WWE, he just competed last Sunday, August 21 at one of their biggest PPV of the year Summerslam. He defeated Randy Orton in the main event via TKO.
Lesnar has not failed any drug test for WWE which means he is still technically cleared to compete for them. He is not on such great terms with them, though. He has been fined $500 or making Randy Orton bleed last Sunday which is something that is not tolerated in a PG environment like WWE.
He has not been an enjoyable presence in the WWE locker room either. Lesnar got into a backstage with fellow star Chris Jericho, explaining why he intentionally bloodied Randy Orton. The altercation eventually had to be broken up by Paul Levesque (Triple H).
As for his career in UFC, Lesnar has a temporary suspension which will be active until he has a full hearing regarding the failed tests. The date of Lesnar's hearing is not known at the moment but is expected to be announced by The Nevada State Athletic Commission sooner rather than later.