Gary Sanchez already earned the primary catching job for the New York Yankees, but could it make way for Brian McCann's ticket out of the Bronx?
It's no joke. Gary Sanchez is the real deal, the future, and the newest starting catcher for the New York Yankees. And rightfully so.
Through his first 13 games with the big boys in the Bronx, the 23-year old is batting .360, has mashed five home runs, and has driven in 11 runs.
How good is that? By hitting five home runs during his brief major league career, he became the first player in franchise history to reach that total within his first 15 career games in the show.
Plus, these are no Yankee Stadium short porch home runs as the average distance per home run sits at a frightening 418.4 feet. This kid is starting to make opposing pitchers fear for their lives on the hill.
As a result, he has earned the praise of the man he has just taken the starting catcher's job from, Brian McCann.
"Listen," McCann said, then zoned off with his own thoughts for about 12 seconds according to Brendan Kuty. "He's a stud. You know what I'm saying? It's a time where he's gonna play and he's gonna play a lot."
Any teammate in his right mind would praise what their rookie backstop has done. McCann, however, displayed an interesting amount of pensiveness while commending the youngster on his accomplishments thus far.
McCann, who owns a .403 slugging percentage (the lowest of his three-year Yankees' career), seemed as though he didn't want to cause any trouble by starting an unneeded dilemma between veteran and youngster but his pause said it all.
With manager Joe Girardi declaring that the 32-year old – who is still very capable of catching for a major league team – will be the team's primary designated hitter, it seems as though this is the beginning of the end of his tenure in New York.
Just think about it.
For starters, general manager Brain Cashman's sell-off of Carlos Beltran, Andrew Miller, and Aroldis Chapman with the engagement of young players – especially Sanchez – in the everyday lineup tells us that McCann is, by no means, in the organization's long-term blueprint for 2017 and beyond.
By making his presence behind the plate away, the succeeding yet reasonable route to take for him is to abandon his no-trade clause and endure a trade at this year's waiver-deadline.
"We're still going to see McCann DH-ing, I'm going to catch Sanchez." Girardi said via NJ.Media
McCann has already cleared waivers and is still owed $34-million over the next two seasons, but has drawn the interest of his former team, the Atlanta Braves.
It seems like an obvious choice. He was born in Athens, Georgia, spent his high school days in Duluth and could be sought by a team that would like to sell tickets to their brand new ballpark next season.
Beyond the Braves, however, the free-agent market for catchers during the 2016/17 offseason is fairly thin compared to most years, giving McCann added value for a team to swipe him in a deal.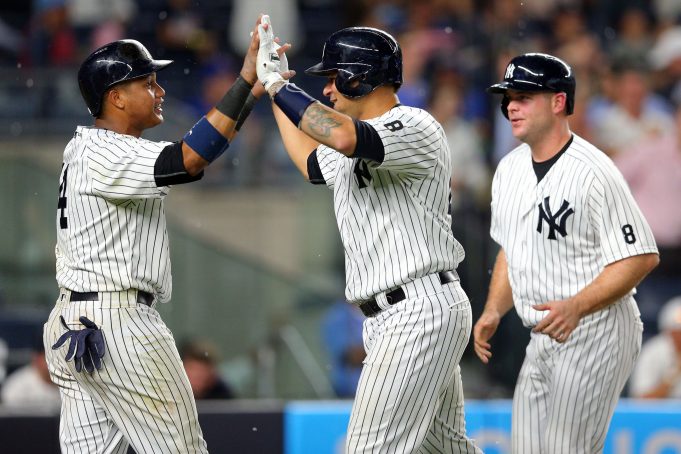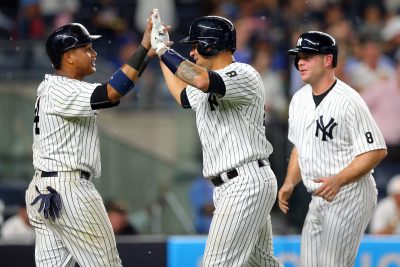 However, given the amount of money owed to the seven-time All-Star and the tough negotiations are required by the Yankees to maybe squeeze wheel in a top-level prospect with another team, the deal will likely be made in the offseason.
McCann's exit could prove to benefit both parties here. For the player, he could revert back to being a veteran starting catcher and lead from the field rather than on the bench – notwithstanding how enormous his leadership would mean to the youngsters.
For the organization, they would rid themselves of relatively permeable production at the plate, a contract that takes a vital toll on their payroll, and allow them to proceed in their rebuild for next year and beyond.
Until a deal can happen, a situation similar – but not as dire – to that of Alex Rodriguez will occur. A veteran playing well below his pay grade to receive an awkward demotion prior to receiving a send-off (including a $27-million buyout).
Sure, McCann's demotion isn't one to the bench, but Girardi trying uncomfortably to find a more-than-capable starting catcher, and Yankee since 2014, some at-bats is essentially buying time until he can be traded this upcoming offseason.