The New York Yankees are no stranger to lucrative contracts.  Will they make Bryce Harper an offer he can't refuse?
B
ased largely on a four-game losing streak, including a three-game sweep at the hands of the lowly Tampa Bay Rays, who themselves, as of Monday, were 10.5 games behind New York in the AL East, Brian Cashman and the
New York Yankees
were encouraged to deal away their best pieces with their scope on what promises to be a bright future.
Never mind that Fan Graphs now give the Yankees a three percent chance of making the postseason.  Despite a thrilling, grind-it-out, 6-5 win to open the Subway Series on Monday night against the floundering Mets at Citi Field, Cashman was justified in making the moves he did.
Evidently, Cashman interceded with Hal Steinbrenner and Randy Levine cogently enough to offload players beyond last week's trade with the Cubs, involving electrifying closer Aroldis Chapman, including shipping off equally dominant closer Andrew Miller to Cleveland, October dynamo Carlos Beltran to Texas, and inconsistent starter Ivan Nova to Pittsburgh.
The haul for the aforementioned players, namely Chapman, Miller, and Beltran (Nova was traded for two players yet to be named), shifted the landscape of the Yankee farm system, recalibrating it from a middle-of-the-pack ensemble to one that is amongst the best in baseball, according to Keith Law of ESPN.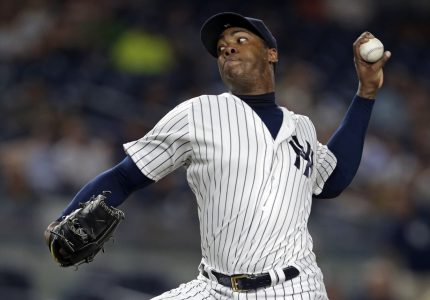 Players gleaned from the Cubs, Indians, and Rangers' minor league systems include (all player rankings according to Fox Sports) outfielder Clint Frazier (ranked 22nd in the majors according to MLB.com), shortstop Gleyber Torres (24th), who supplants Jorge Mateo as the top player at the position in the Yankee organization, pitcher Justus Sheffield (93rd), Dillon Tate (last year's number four overall pick), outfielder Billy McKinney (16th rated prospect in the Yankee farm system), pitcher Ben Heller, outfielder Rashad Crawford, pitchers J. P. Feyereisen, Erik Swanson, and Nick Green, and whichever low-level prospects are arriving from the Nova trade.
After these deals, the Yankees find themselves with a glut of outfield talent to bolster what the club can offer with the ascension of first baseman Greg Bird, catching prospect Gary Sanchez, Mateo, and a hopeful return-to-form stretch for Luis Severino, who likely takes Nova's vacancy in the rotation to close out 2016.
Frazier, McKinney, and Crawford supplement a farm system that already included Aaron Judge (the Yankees' number three prospect before the Miller and Beltran trades), Blake Rutherford, and Dustin Fowler.  With Beltran's departure, the Yankees promoted Ben Gamel, but may be so inclined to call up Judge once he receives a clean bill of health.
THIS JUST IN: Rangers agree to trade for Yankees OF Carlos Beltran. (via @Yahoo) pic.twitter.com/lPoJZkZ856

— SportsCenter (@SportsCenter) August 1, 2016
According to Pinstripe Alley, in association with SB Nation, the Yankees, as per a Jon Heyman report, may be encouraged, sooner rather than later, to release Mark Teixeira, whose contract runs out at season's end, and Alex Rodriguez, whose one-time, infamous, "biggest contract in all of professional sports" will be off the books by the end of 2017.  Both players have ultimately broken down, and are shades of what they were during New York's abbreviated playoff run in 2015.
With no takers at the deadline for catcher Brian McCann, outfielder Brett Gardner, and pitchers Nathan Eovaldi and Michael Pineda (both of whom are not locked into a contract and remain arbitration eligible at season's end), all of whom were rumored to depart before Monday, may also be put on waivers, and a collection of them may be dealt away before the end of August.
Starting with their declining Robinson Cano's ludicrous contract demands in 2014, with hopes of dipping below $180 million in payroll, the Yankees, who made efficient and economically sound signings for Andrew Miller (four years, $36 million, a steal for a lights-out reliever with a World Series ring and playoff pedigree), Brett Gardner (four years, $52 million), and Carlos Beltran (three years, $45 million, a bargain in hindsight, considering his monstrous second half in 2015 and his All-Star campaign at age 39 that resulted in the acquisition of a flamethrower with a high ceiling in Dillon Tate), despite also inking regrettable deals with McCann (five years, $85 million, running through 2019) and Jacoby Ellsbury (seven years, $153 million, which terminates in 2021 or 2020, based on a club option), have recently run their ship more efficiently and frugally.
Time to recap yesterday's moves. Check out part one of our @YankeesonDemand trade recap here: https://t.co/NxZzoKaP2E

— New York Yankees (@Yankees) August 2, 2016
Standing pat at last year's trade deadline despite the potential to keep pace with the eventual AL East division champs, the Toronto Blue Jays, the Yankees only brought aboard Dustin Ackley, refusing to part with Mateo in a potential Craig Kimbrel deal with San Diego.
Waiting for his stock to plummet this past offseason, the Yankees also dealt for Aroldis Chapman, giving away four low-to-mid level prospects in the process, later shipping him to desperate World Series hopefuls in the Chicago Cubs before the deadline.
Cashman's recent stretch of trades, arguably the best run of his Yankee tenure, has bolstered a now-sterling farm system, giving the club the ability to develop talent, offer tremendous assets on the trade market, and enjoy payroll flexibility for the first time since their spending spree in the offseason that preceded the 2009 World Series campaign.
Essentially, by 2018, the Yankees may find themselves swapping one massive contract (A-Rod's) for another (Harper's).
Which brings Cashman to the season for which he and ownership have waited nearly nine years.  No, not 2017.  The 2018 season, which could very well be the infancy of a new Yankee dynasty.
The free agency landscape in 2018 could include 2015 AL MVP Josh Donaldson (although he would be 33 years of age by then), 2013 NL MVP Andrew McCutchen, 2012 AL Cy Young winner David Price (if he chooses to opt out of his contract with the Boston Red Sox), 2015 AL Cy Young winner Dallas Keuchel (should the Astros failed to reach terms on an extension), pitchers Jose Fernandez, Matt Harvey, and Clayton Kershaw (should he choose to opt out of his Dodgers' contract), centerfielder A. J. Pollock, third baseman Manny Machado, and the prized crop of the 2018 free agency class, 2015 NL MVP Bryce Harper.
At age 26 during the 2018 season, Harper will likely be baseball's first $400 million dollar man, eclipsing Giancarlo Stanton's contract by leaps and bounds.
By 2018, the Yankees will only have $104 million committed to six players (not including players on rookie or arbitration deals), two of whom are likely guaranteed to be around (ace Masahiro Tanaka and second baseman Starlin Castro), with four others (Ellsbury, McCann, Gardner, and Chase Headley) who could be traded away (Gardner and McCann being the likeliest of candidates) or in desperate need of a contract restructure (here is looking at you, Ellsbury).
Essentially, by 2018, the Yankees may find themselves swapping one massive contract (A-Rod's) for another (Harper's), only the latter's contract will take him though his age 36 season, as opposed to Rodriguez's age 42 season, should it be a ten-year pact.  And since Harper would join an already crowded outfield with the aforementioned surplus of young talent (although Gardner will likely be dealt off before then), the Yankees could trade off some pieces to fill positions of need, perhaps even freeing up enough space and payroll to land Harper, Machado, and Fernandez, or any combination of two of them, preferably Harper and Machado (who, like Harper, will be 26 in 2018), as the Yankees should be wary of offering long term contracts to pitchers, since they are currently anguishing through the pact they made with CC Sabathia, who has not been effective since 2012 and remains on the books through 2017.
Harper, unlike Los Angeles Angels centerfielder Mike Trout, is not as highly revered for having the warm personality that Trout or other stars have.  In fact, Harper coming to the Yankees will provide the organization with their first face of the franchise since Derek Jeter's departure, albeit, the face of the once coined Evil Empire.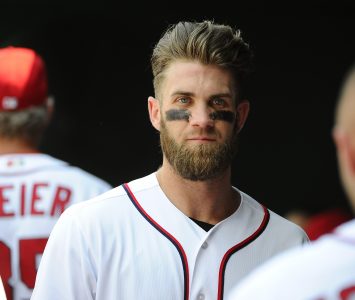 Harper embraces his turn as a heel.  He comes to the plate to J. Cole's braggadocios track "G.O.M.D.," an acronym for "Get Off My D—."  A modern day Charlie Hustle, Harper makes no qualms about questioning a teammate's effort, as he did with closer Jonathan Papelbon, who earned a season-ending suspension for his altercation with Harper in the dugout in the final week of the 2015 season. But in mocking Donald Trump's "Make America Great Again" mantra, Harper has been prone to donning a "Make Baseball Fun Again" cap during postgame interviews, highlighting his penchant for exuberance that helps keep the game relevant amongst a younger fanbase.
A polarizing player in the mold of Pete Rose, Ted Williams, and Barry Bonds, Harper brings electricity and star power to the game of baseball, and has the type of clout to take Under Armour apparel into another stratosphere the way Stephen Curry has, only Yankee Stadium could be his home, which amounts to more endorsement dollars and more billboards strewn about the greater metropolitan area of New York City.  Harper can be king of this city, which remains a baseball town, in no time.
Never mind that he could be a World Series champion and a two-time MVP by the time he potentially arrives in New York, as well.
Despite a subpar season—he is currently hitting .235, but with 20 homers, 56 RBI, 15 stolen bases, and a major-league leading 82 walks (and with 75 strikeouts, he could have his first season of drawing more walks than K's)—Harper's prominence and the attention toward him has not cooled.
As of Tuesday, his Nationals lead the Marlins by five games in the NL East.  Washington, who dealt for closer Mark Melancon without having to part with top pitching prospect Lucas Giolito, will no longer have to bear a Papelbon implosion, and become a top club that will battle the Cubs, Giants, and Dodgers for NL supremacy, with arguably Harper's best chance at making a World Series in his short time in the nation's capital.
Should Harper muster a hot second half, the Nationals could run off with the NL East division, avoid a one-game Wild Card playoff, and at least earn home field advantage in the NLDS.  And should he prove himself a leader in the clubhouse and on the field during a long playoff run this season and the next, Harper could find himself warranting the grand figures he will be due in 2018.
At age 22, Harper crafted a masterpiece of an MVP season, leading the majors in Wins Above Replacement (9.9) and OPS (1.109), and the National League in runs scored (118) and homers (42), finishing third in the majors in batting average (.330).  Despite a downtick in performance this year, Harper is still having an All-Star caliber season, and if last season, at his young age, is any indication of what Harper is and can be, he will earn his dollars and catalyze a Yankee dynasty, should he sign in 2018.
Meanwhile, the Yankees organization and its fans will wait patiently for Harper's turn on the free agent market, while giving some young guns the chance to produce in 2017, namely, Severino, Bird, who will return from surgery on his shoulder to replace Teixeira, Judge, who will likely replace Beltran as early as this season, and Gary Sanchez, who could platoon with Austin Romine, should New York find a trade partner (the Braves, his former team, seemed interested) for McCann.
The fans and organization alike can expect some relative growing pains with the infusion of young talent next season, but the club still fields some veteran leadership to help carry the baton before Harper and Co., along with newly acquired prospects, are primed and available to retrieve it themselves in 2018, running off with it toward pinstriped glory.
And with Bryce Harper, a consummate five tool player, as the potential face of the New York Yankees, the possibilities for contention, if not dynasty, are limitless.