RECAP: #Yankees collect season-high 20 hits in shutout of White Sox. https://t.co/mXfSNoGDtfhttps://t.co/YY3IfFwYnc

— New York Yankees (@Yankees) July 6, 2016
After being considered one of the worst players across Major League Baseball, New York Yankees third baseman Chase Headley has turned his gloomy season around.  
From the start of the 2016 season up until May 5,
New York Yankees
third baseman
Chase Headley
was a laughing stock, everyone's punching bag, and just flat out appalling.
How appalling was it? Aside from the fact that he was below the Mendoza line while batting 46 points below his weight (overall .151/.250/.151 slashline with zero home runs), Twitter accounts were even made to showcase the comedic slump.
However, Headley didn't let the anemic output mess with him. Sure, it was more than ugly, but the man who once finished fifth in the National League MVP voting just couldn't distinguish the right from the wrong.
"I was like, man, I don't see a whole lot different," Headley told Newsday in regards to watching film. "Sometimes that's worse than being completely lost because at least when you're lost you're like, OK, now I know where to go, I know what I have to do to get better. It's a little tricky when you're getting such bad results and there's not something glaringly wrong."
Bad was a very optimistic way to describe his contribution to a mediocre Yankees' offense.
In his first 23 games played, Headley had failed to record an extra-base hit while batting .151 and striking out in 25% of his at-bats. Thanks to this, the Yankees started the season 7-16 for one of the worst starts in franchise history.
In due time, Headley had found the problem. Headley told Newsday that his bat was "whipping" somewhat early forcing the contact point to already be passed the pitcher.
This caused him to simply not square the ball up and this head map by FanGraphs shows us exactly that: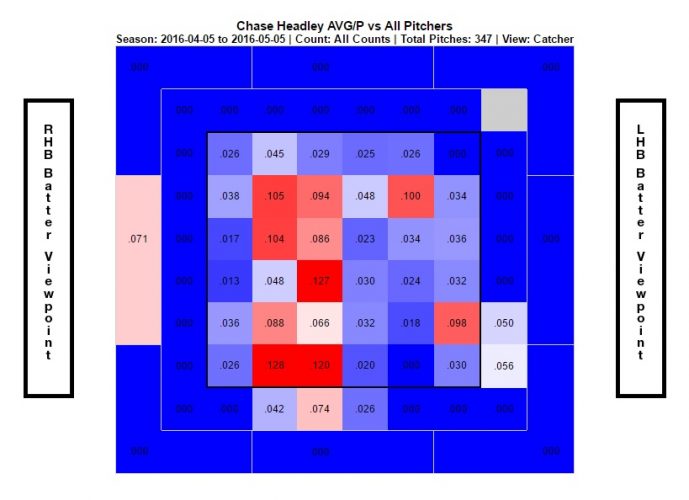 So, in order to fix that, his bat path was adjusted in order for the head of the bat to be aimed directly towards the pitcher. That not only makes him have more margin for error, but it has caused that anemic heat chart to light up with more of a red glare. Take a look: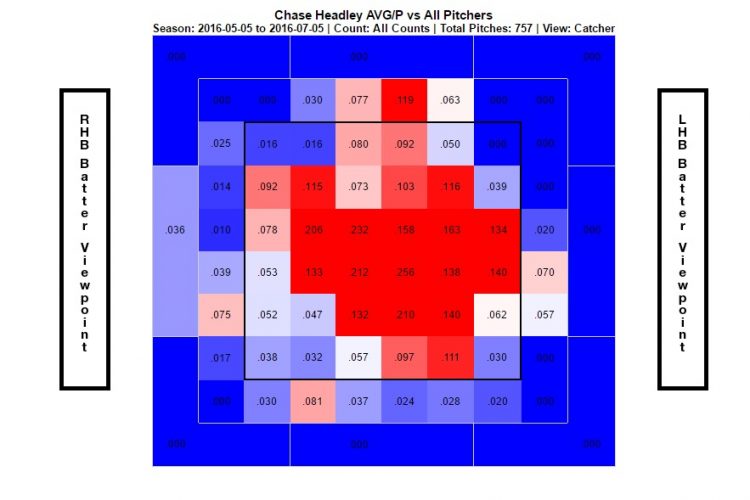 Additionally, since May 5, he has maintained a slashline of .297/.365/.474 with an OPS of .840 including all seven of his home runs while his team has gone 27-25 (84 win pace).
Yes, the New York Yankees paid for the gold glove winning third baseman who hit 32 home runs and drove in 115 RBI four years ago. And no, they won't get that, but to have Headley return to the Mendoza line and more will pay dividends for a team with the hopes of competing.