Most Improved Player: C.J. McCollum (SG-POR)
In past seasons the Most Improved Player Award has almost always been about an increase in scoring, not necessarily about whether or not the player became better. C.J. McCollum will win the award because of that tired cliche, but he'll also win because he should.
McCollum has shown incredible resilience, playing and starting in 80 games despite a remarkable minutes increase from 2014-15 (15.7 MPG) to 2015-16 (34.8 MPG). It isn't just the minutes, the entire offense runs through McCollum and his backcourt mate Damian Lillard.
Lillard accounted for 39.1 plays per game, while McCollum accounted for 30.9 with Mason Plumlee third after them with just 15.4. Again the two guards were at the top of time of possession percentage and true usage percentage by a wide margin, showing how much the ball shifts their way (according to Nylon Calculus).
The point is that McCollum is counted on to be Damian Lillard's second in command, and he's done a damn good job. In just his third season he went from bench warmer to mad bomber at age 24.
McCollum didn't see a lot of three-pointers he didn't like this season, and he definitely had the green light. McCollum made sure to knock down the good looks whenever he got them. He made the open shots (defined by NBA.com as closest defender within 4-6 feet) from three-point range at a phenomenal 40.2 percent clip, but on the wide open shots (closest defender within 6-plus feet) he was an even better 55.2 percent (via NBA Stats).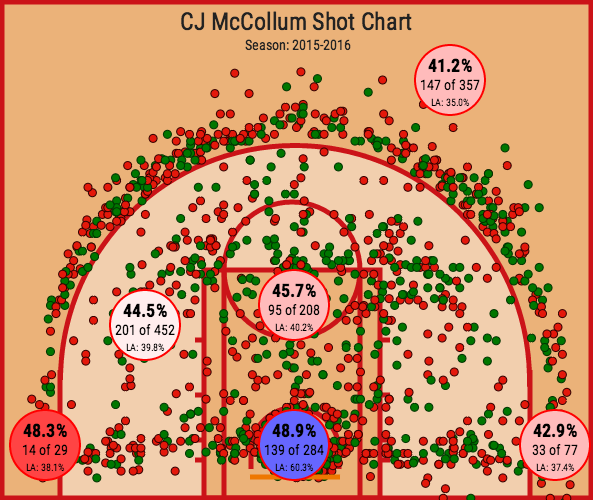 McCollum was only on the court enough last season to attempt 139 three's. In 2015-16, he had done that by December.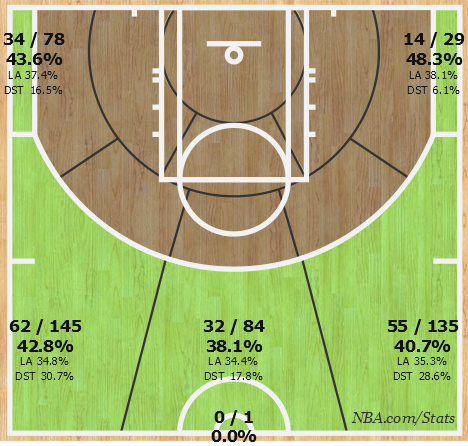 McCollum has been an incredible asset behind the superstar Lillard as a pure shooter, and as the secondary guard running the pick and roll. He'll have to contend with other good candidates like Denver's Will Barton (Lance Thomas will receive votes Knicks' fans) but ultimately McCollum's the guy.