Rookie of the Year: Karl-Anthony Towns (C-MIN)
Like MVP, the Rookie of the Year award should be unanimous this season. Jahlil Okafor missed 19 games and when he played was a defensive albatross, Kristaps Porzingis tailed off towards the end of the game, and D'Angelo Russell might as well have not played basketball this season he's just a snitch as far as most are concerned.
That leaves the No. 1 pick and the cream of the crop: Karl-Anthony Towns. He was the best rookie in the league this season by a mile. Towns did something that hardly NBA athlete does anymore, much less a rookie, he dominated on both ends of the court.
The 20-year-old out of the University of Kentucky led rookies in scoring (18.3), rebounding (10.4), blocks (1.7), double doubles (51), and PER (22.5), while on a slash line of .543/.341/.811.
The rookie center has shown an impressive versatility in his offensive game as more than just a scorer in the paint but also as a shooter. Towns was 261 for 600 (43.5 percent) on jump shots (via NBA Stats).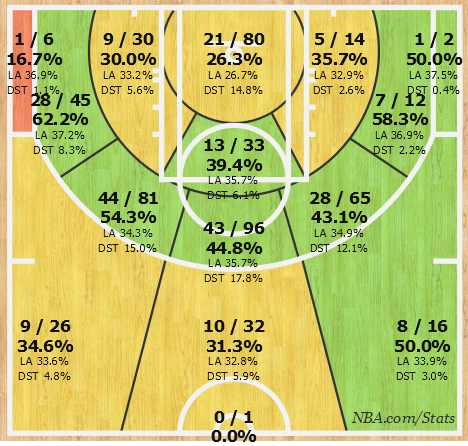 On spot up shots, Towns converted an impressive 1.13 points per possession with an effective field goal percentage of 58.1%. Those numbers put him in the 86th percentile of efficiency in the NBA.
Okafor was thought to be the most polished rookie in the class but that didn't turn out to be remotely true, as Towns has proven he isn't just good for a rookie but he's one of the best big men in the NBA.