Most Valuable Player: Stephen Curry (PG-GSW)
No drama in the MVP vote this year. Stephen Curry wasn't just the most valuable player during the 2015-16 NBA season, but arguably the most valuable of all time. The record breaking Warriors and their incredible offense are stunningly worse when their point guard is off the court.
Curry's astronomical +22.2 net rating is perfect evidence. With their star on the floor the Warriors are +17.9 points per 100 possessions but they're an abysmal -4.3 points per 100 poss. when he sits.
According to NBA Stats, the Warriors scored 116.7 points per 100 poss. in the 2,700 minutes with Curry on the floor and just 102.9 points per 100 poss. in the 1,276 minutes without.
This is a Warriors team that won 73 games with an average margin of victory of almost 11 points per contest. This is a team that lead the NBA in scoring, three-point shooting, and assists (via basketball-reference.com). But without Curry they look pedestrian.
In three games without Curry this season the Warriors are 2-1, with the sky nearly falling after that blowout loss at Dallas in December.
Curry's individual stats have been discussed to death, but it's necessary to point out that he became the first scoring leader (30.1 ppg) to be in the 50/40/90 club. A truly incredible fact when you consider Curry attempted 1,569 FGs with an astounding 873 coming from downtown. He only made 363 of a possible 400 free throws, no big deal.
There may never be another player like Curry. He's armed with a quick trigger that prevents defenders from leaving even the slightest of open spaces in his vicinity. That's what separates him from the other shooters.
The NBA three point line is 23 feet 9 inches. Apparently Curry has taken that as more of a guideline that a rule. You see he's attempted a remarkable 563 shots from between shots from between 25 and 29 feet, making 251, good for 44.6 percent.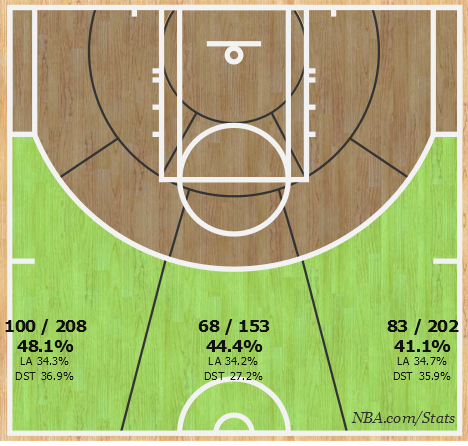 It gets better. Believe it or not, Curry has taken 26 shots from between 30 and 34 feet, and made 15 of course (via NBA Stats). That's good for not just 57.7 percent, but also for making him a non-stop highlight reel for the impossible shot.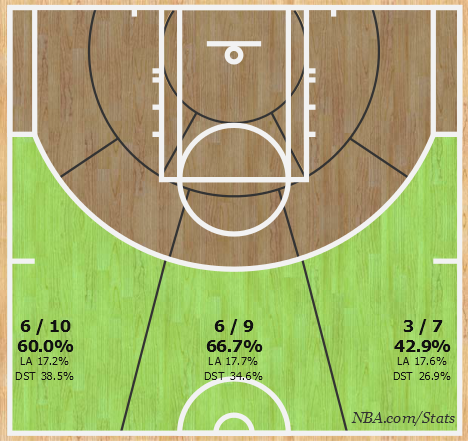 We've had the privilege of watching Curry turn from the underdog draft pick to the greatest shooter of all time. It was worth the wait.