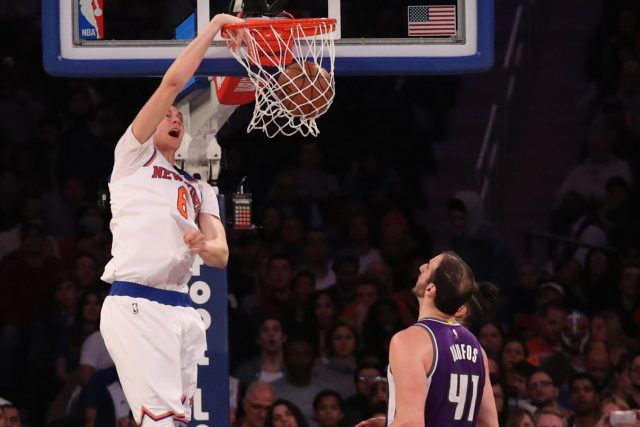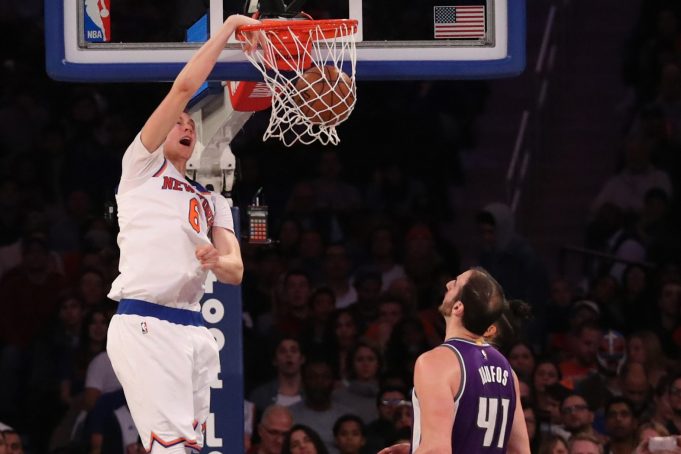 New York Knicks young stud Kristaps Porzingis crosses over Sacramento Kings big man Willie Cauley-Stein to the delight of all at MSG.
Come on now. Is this reality? 
If a person were to describe this type of player back in the 1980s, he/she would be thrown into jail with the key thrown deep into the ocean. How in the world can a 7-foot-3 big man in the NBA actually be crossing over guys on the perimeter? It's just not possible.
Bigs are bigs while they rule the paint and crossovers are reserved for the small, more athletic types.
But then a guy like Kristaps Porzingis comes along and provides credence to the guy we already threw in jail three decades ago.
With the New York Knicks playing host to DeMarcus Cousins and the Sacramento Kings on Sunday night, KP did his best Allen Iverson impression on Willie Cauley-Stein:
If somebody were to describe a 7'3 player doing this back in the 80s, they'd be locked up and put away for insanity. #Knicks #Porzingis pic.twitter.com/lmiXfiCMn4

— Elite Sports NY (@EliteSportsNY) December 5, 2016
While it wasn't the most ferocious cross of all-time, just the mere fact a seven-footer can accomplish these things is marvelous in itself.
As far as the game is concerned, the Knicks have blown a 20-plus point lead and only lead by one point with 1:04 to go in the third quarter.