Josh McCown's return to New York Jets starterhood went horribly awry on Sunday, and the veteran quarterback made no excuses afterward.

EAST RUTHERFORD, NEW JERSEY-To say Josh McCown's return to regular season action against the Buffalo Bills could've gone better may be the understatement of the NFL season.
Inserted in place of an injured Sam Darnold, McCown struggled mightily against the Bills defense, completing just 17-of-34 passes for 135 yards and two interceptions. The New York Jets offense as a whole sputtered throughout the game, opening with four consecutive three and outs en route to an anemic 199-yard performance.
It was McCown's game to win or lose on Sunday, as Todd Bowles merely replied "no" when asked if former New York Giants draftee Davis Webb could've entered the game at some point. As the team's leader, McCown assumed responsibility for a good week of preparation going to waste in Sunday's 41-10 disaster.
"I thought the week of work was excellent. The energy this week was excellent," McCown said in the Jets locker room. "To come out and not take that into the game on Sunday is just very disappointing. Each man's got to look at himself and figure out what they can do better to have this not happen because it's unacceptable."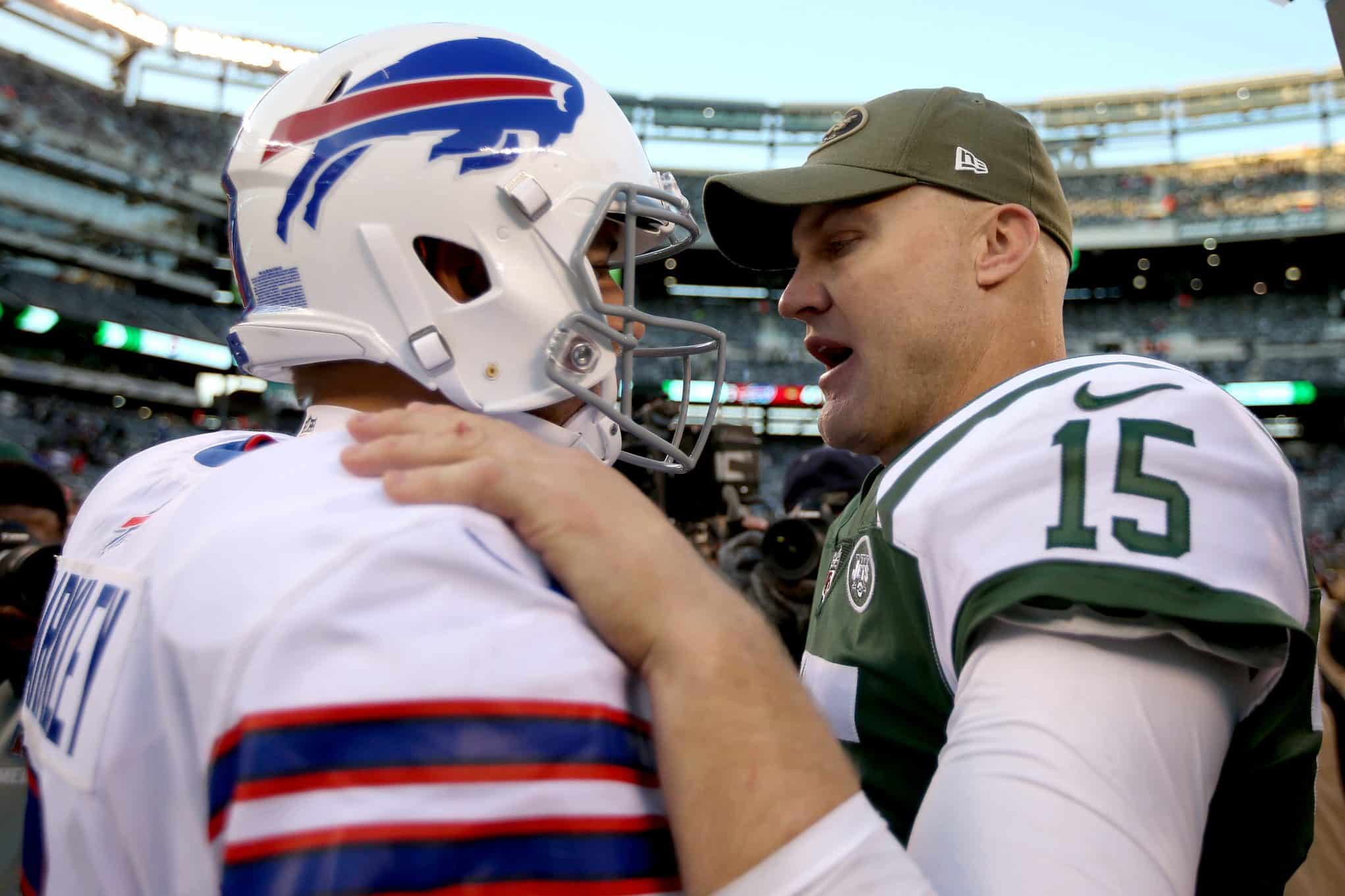 McCown singled himself out when it comes to that reflection.
"A quarterback touches the ball every snap and I hold myself to a high standard," he said in a self-assessment. "So whenever we go out there and don't win, you have to look at it very critically and ask yourself what you can do better."
Time will only tell if Sunday marked not only the final Jets appearance for the 39-year-old McCown, but also his final appearance on an NFL field entirely. Bowles made it clear during the Buffalo preparation that Darnold would return to the starter's role no matter how Sunday panned out, and it's possible the upcoming bye week will allow Darnold the necessary recuperation to be ready for the Jets' Nov. 25 showdown against the New England Patriots.
McCown signed a one-year, $10 million contract in March to remain with the team after starting 13 games last season.  The Jets went 5-8 in McCown's 2017 starts, including a November win over the Bills at home. This time, however, he had no response for a strong Buffalo defensive effort, one that allowed only 12 first downs.
"They mixed some things up here and there and they had a good plan," McCown said of the Buffalo defense. "More than anything, I think it's just the way that we went about our execution. We just didn't play well and make the plays that were there."
With the Jets' first offensive possession opening with a 7-0 Buffalo lead, one that only grew as the game went on, McCown's unit was immediately thrust into an unfavorable position. Being the elder statesman in the Jets' locker room, he once again deflected the blame to himself, remarking that an early deficit was no excuse for failing to score points.
"That's the National Football League," the 16-year NFL veteran said. "You're not worried about playing from behind as much as going out and executing the plays. Like I said, the execution was key today and we did not do that."
A lone bright spot for McCown was the Jets' second drive of the second half, a seven-play, 73-yard trek that ended with a five-yard Isaiah Crowell touchdown run. McCown was pleased with the traction the Jets' made on that possession but lamented he was unable to keep it up for the whole game.
"We had some big runs, big chunk runs going and we converted some third downs," McCown said of the drive. "That was just how we planned on playing the whole game and we weren't able to get that done on the other series."
Headed into their bye, the Jets are going to have to do some deep digging and reflection to at least look respectable over the final six games of the season. McCown is willing to help the recovery efforts in any way he can.
"Each man's got to find a way to take what we do during the week to Sunday," he said. "I have to look at anything and everything I can do to do better and help us (stick together)."
Follow Geoff Magliocchetti on TWITTER