If Jeff Gorton and the New York Rangers want to protect Oscar Lindberg, they'll have to roll up their sleeves and get creative.
A
second-round playoff exit isn't the only potential dark cloud looming on the horizon for the New York Rangers.
Their fate on that matter will be determined shortly, but another one hangs off in the distance, set to arrive Jun. 20: the NHL expansion draft.
Win or lose this seesaw series against the Senators, the Rangers face the certainty of losing a valuable piece of their roster to the Vegas Golden Knights, set to begin play next season.
No potential departure looms larger than that of Oscar Lindberg — a fact that's been increasingly obvious as the postseason goes on.
Lindberg's performance has moved the possibility of his being selected in the expansion draft — which now appears highly likely given his development into the Rangers' most dependable center during these playoffs — into the realm of disastrous for his current team. Finding a way to keep that from happening has likely become a top priority and concern for general manager Jeff Gorton and the front office.
The problem is that doing so should prove extremely complicated.
The draft works like this: Teams may choose two structures of player protection, either 7-3-1 (seven forwards, three defensemen, one goaltender) or 8-1-1 (same positions, different numbers). Players with no-trade clauses must be protected, and each team will lose exactly one player. First- and second-year players are exempt.
So, here's what appears to be the simple protection math for the 7-3-1 Rangers:
Forwards:
Defensemen:
Goaltenders:
Exempt:
That leaves Lindberg, Jesper Fast, Michael Grabner and Antti Raanta as prime targets for a move to Sin City. So the Rangers are going to lose someone of value here, but the thought of it being Lindberg as this point seems too much to bear.
Here's betting Golden Knights GM George McPhee (can't he cut the team he played for a break?) will see Grabner's 27-goal season as a likely offensive anomaly, despite Grabs' acknowledged value to any club — he too would be a major loss — and focus on higher-ceiling players as he works to build his roster. Maybe he wants Raanta, a future starting goalie somewhere, or the ultra-underrated Fast. It seems more likely, though, that McPhee has been watching the rise of the Rangers' "fourth-line center" carefully.
It is beyond debate that Lindberg, set to become a restricted free agent at season's end, has been the team's best pivot in this postseason tournament. His three goals in the Ottawa series came in Games 3 and 4 as the Rangers knotted up the best-of-seven. In addition to delivering offensively, his line has consistently been matched against the Senators' and Canadiens' top forward units, and he's performed admirably in a defensive capacity. Lindberg has won 52.3 percent of his faceoffs in these playoffs through five games of the current series, tops on the team.
In NHL.com's advanced stats formula, the Shot Attempts category — similar to the Corsi statistic — gives Lindberg a 27 for the playoffs (essentially meaning the Rangers have attempted 27 more shots at the opposing goal than they've given up when Lindberg has been on ice). Tanner Glass, with a negative-1 mark, is next among Rangers.
"You're always evaluating, but it's not as if I'm going game by game or series by series on the decisions we have to make," Gorton told the New York Post's Larry Brooks last month. "It's not like from one day to the next I'm changing my mind about guys and about who's in and who might be out.

"It's all going into the (mental) file that we'll go over as a group after it's done, the same way we always do. Performance matters – it always does, right? – but postseason decisions aren't my focus. There's a time for that, but it's not now."
This 25-year-old rising two-way center can't simply be lost for nothing, can he? It seems impossible now that Gorton won't try to do something to prevent the 6-foot-1, 202-pound Lindberg from becoming, as has been written tongue-in-cheek numerous times by local media outlets recently, "Vegas' second-line center in 2017-18."
So no harm in speculating about how Gorton could do that, is there?
Option 1: Make a side deal with McPhee in which he agrees not to select Lindberg on Jun. 20
This would probably be expensive for the Rangers, likely along the lines of another first-round pick heading elsewhere for the fifth straight year. McPhee might be foolish not to demand as much. Whether keeping Lindberg for such a price – or higher – is worthwhile is the kind of decision Gorton gets paid to make.
Probability: Possible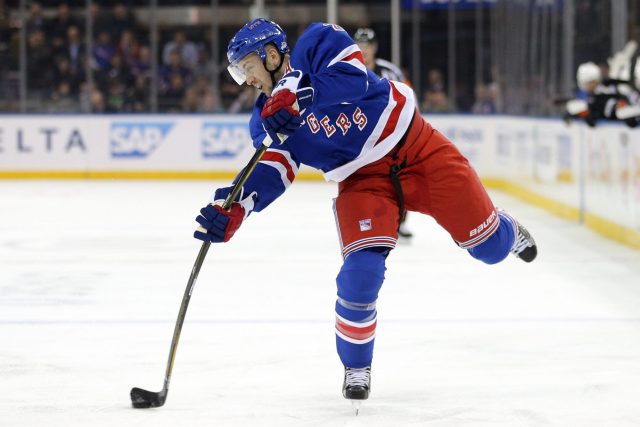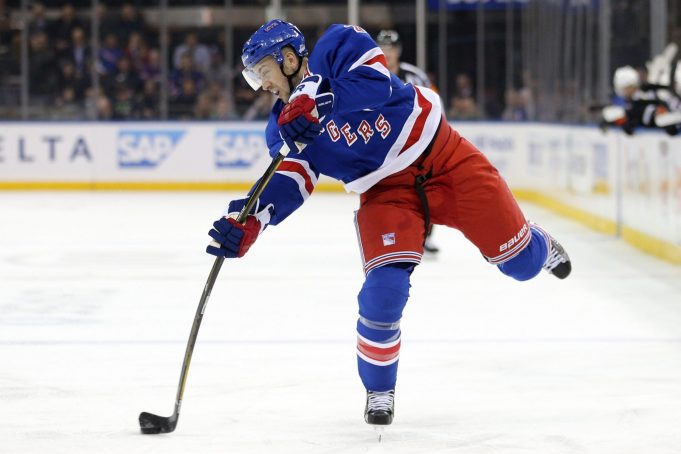 Option 2: Protect Lindberg over Stepan
OK, OK, again we're just speculating. Beloved as he is in the Blueshirt, exposing Stepan might not be as disastrous as seems. Step delivered a decent regular season, with 17 goals and 38 assists in 81 games. The problem with that? None, except that the point total of 55 appears to be what the 26-year-old alternate captain is going forward. He's averaged 52.7 points in his six full seasons. There seems little reason to believe that a quantum leap is forthcoming at this point. Plus, his career faceoff win percentage is 45.0. He's below average at the dot and probably always will be – a troubling stat for a supposed No. 1 or "1A" center (and frankly, this debate wouldn't exist with a better team because he probably wouldn't be considered either).
Furthermore, watching (or more accurately, not noticing) Stepan in these playoffs has to be disconcerting. He has a goal and three assists against the Sens, but was a combined minus-3 in the losses in Games 1 and 2 and managed one assist against Montreal in the opening round. He's at 43 percent on faceoffs in the postseason and is a negative-12 in the Shot Attempts category, largely invisible in this postseason.
Lindberg has a higher ceiling, the occasional flashing of elite puck skills offering the promise of a player who could at least match and possibly exceed Stepan's offense while simultaneously providing an exceptionally better defensive presence.
Not protecting Stepan also provides potential benefits on the financial side. His $6.5 million cap hit – second on the team behind Rick Nash's $7.8M, per hockeybuzz.com – through 2020-21 might give McPhee pause as to whether to pay that much for a decent but not exceptional forward who appears to have reached his limits offensively, is a liability on faceoffs and prone to inconsistency (e.g., this season's 23-game goal drought).
So an exposed Stepan might scare Vegas off, or, if he's selected, provide invaluable cap relief for a Rangers team that needs it to profoundly revamp the defense. Free agents-to-be Brendan Smith AND Kevin Shattenkirk, anyone? Almost certainly not, but with $16-17 million in cap space that would result from Stepan being selected (before offseason roster moves and cap for 2017-18 being set)…
The question to ask is whether the Rangers would be worse off with an ascending Lindberg centering the second line, and a free agent or perhaps youngster Cristoval Nieves in the middle of a revamped fourth line next season. That assessment would of course have to take into account the cap room gained from Stepan's departure. It would certainly qualify as a big loss for him to be claimed, but the Rangers are going to take a hit to their depth somewhere and center is a position where they could probably overcome it.
Probability: Very unlikely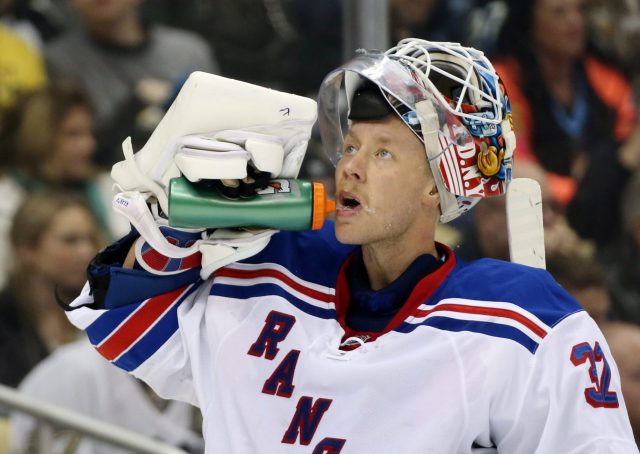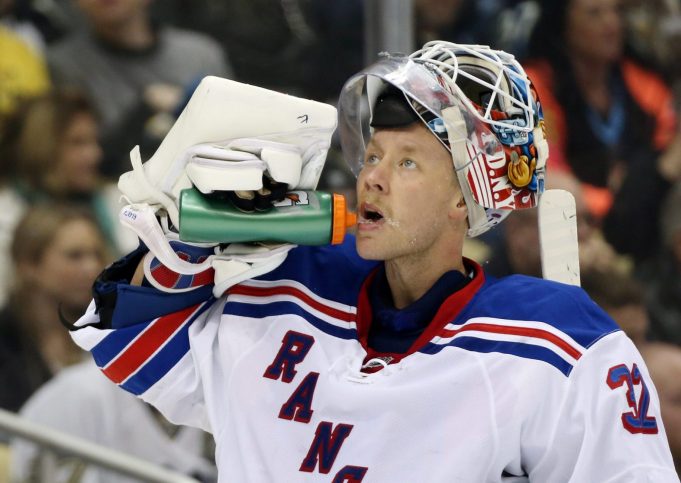 Option 3: Leave Lindberg exposed and hope the Knights only have eyes for Raanta, Fast or Grabner
The easiest of the three choices and the most dangerous. This expansion draft is way too advantageous for Vegas (something to do with the size of the entry fee paid to the league by Knights ownership, perhaps?) but the Rangers have to face it like everyone else, knowing their exceptional depth is going to be compromised at some level. Watching Lindberg depart for nothing, without trying something creative to keep him, seems irresponsible. Time will tell if the Rangers have the desire to do so.
Probability: Unknown